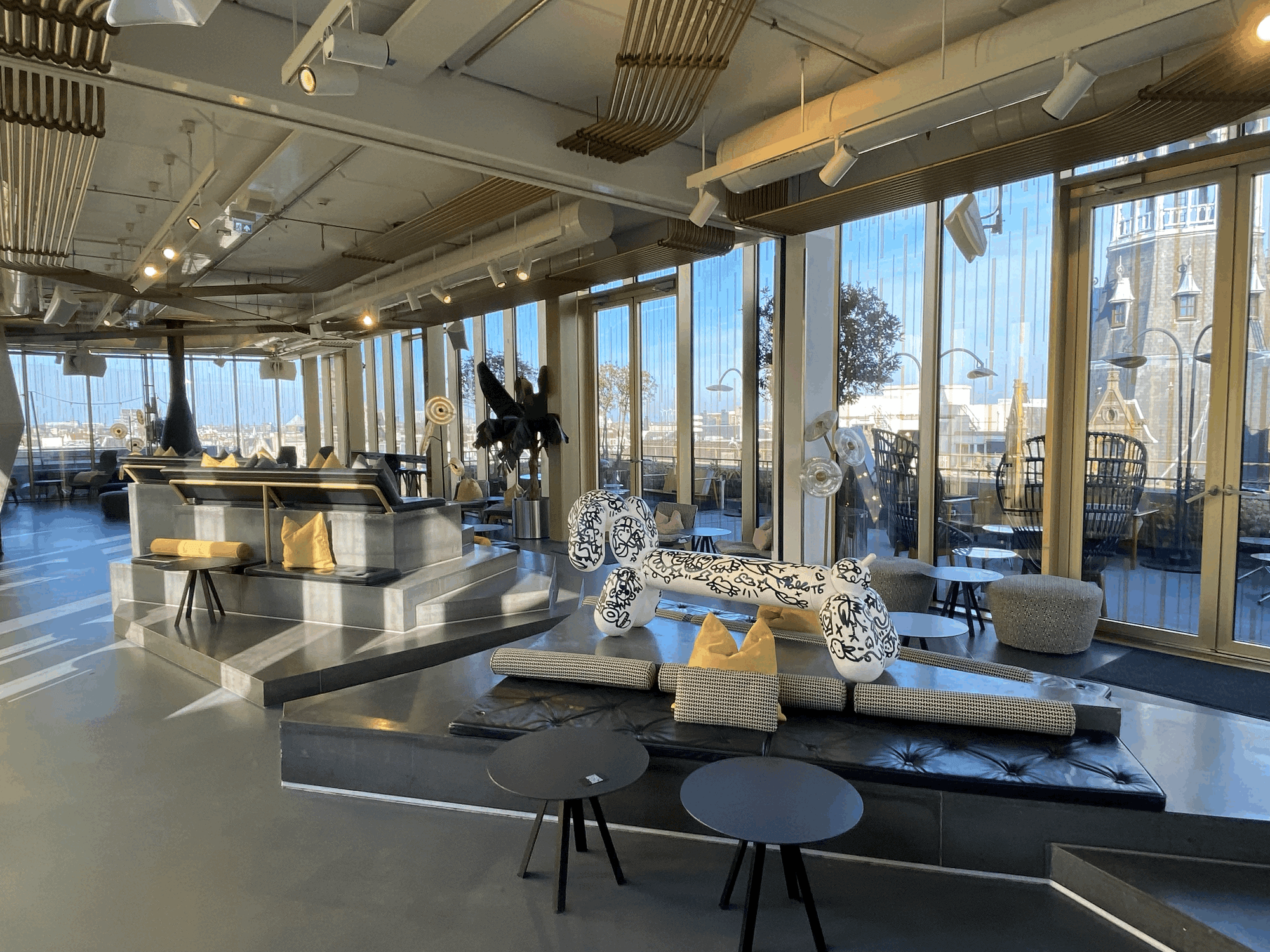 A much-awaited spring break vacation on the cards from the university was long pending. This was my first time in Europe, and I wondered what destinations I could cram into my quick trip. Without much ado, we locked this river town in the Netherlands for the stories we have heard and its beauty.
I traveled to Amsterdam in late March and was in this beautiful city for about three days. W Amsterdam is about a six-minute cab ride from the Amsterdam Centraal station. This hotel was located right next to Dam square. It was a walkable distance from every prominent tourist attraction in the city.
Dive into my stay at W Amsterdam, my second W hotel worldwide after W Goa.
Checkin experience
The hotel is built weirdly. Once you arrive, you will only see a concierge desk and elevators, and you take them up to floor six, where the lobby is located. The lobby is a giant, bustling space with open terraces and an elegant fireplace. This place draws a lot of crowds in the evenings, thanks to the bar round. Once we checked in, we were served some bubbly, and we were told that they had upgraded us to a better-view room (Thanks to Marriott Bonvoy Gold status). In all, it was a very comfortable check-in experience.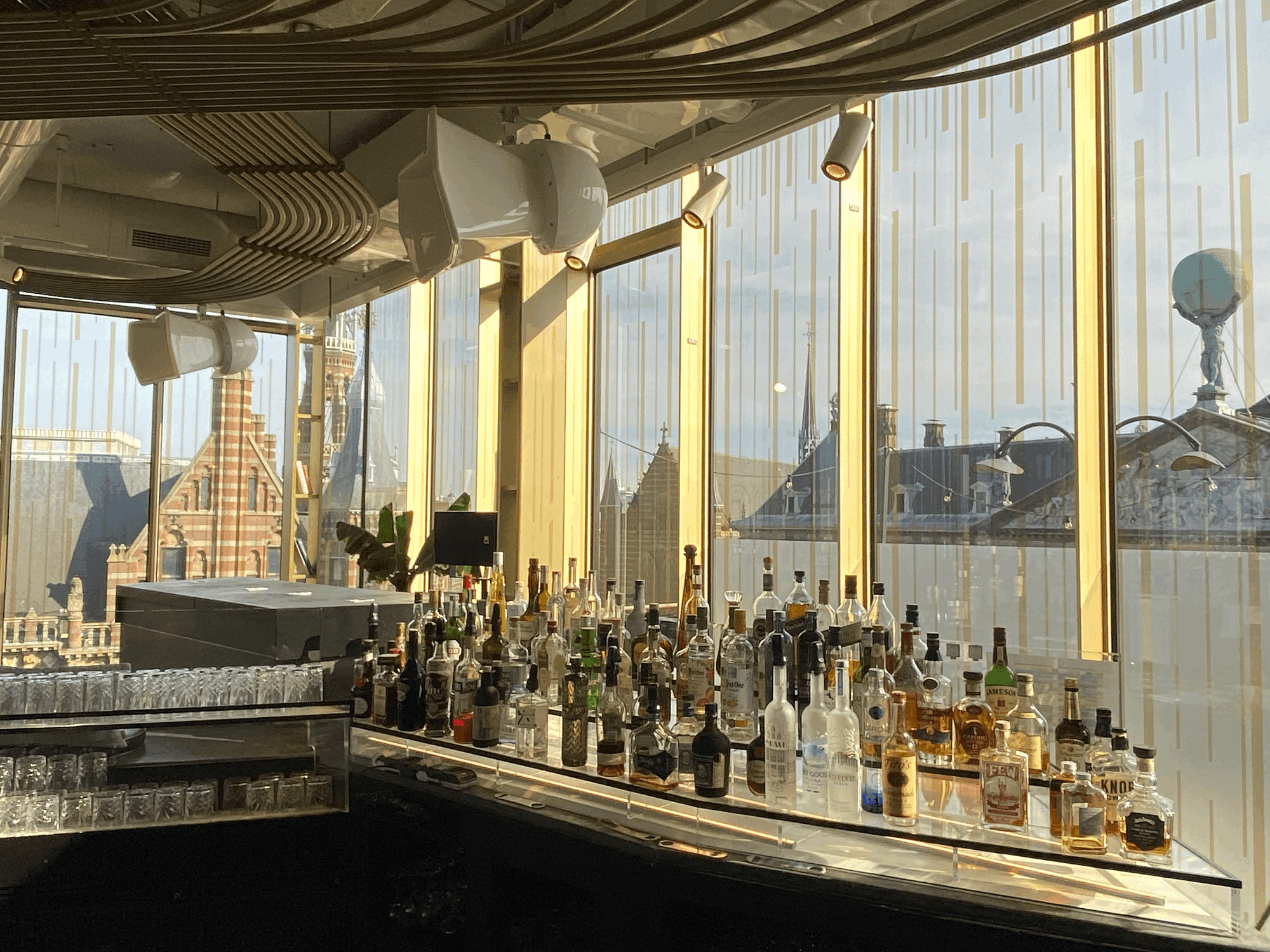 Rooms
W Amsterdam has two buildings across the street; one can walk down to the next building quite effortlessly. The first building is where the lobby, restaurant, and rooms are located. The building across has the spa and the spa pool. We, from the lobby, moved to a separate floor where our room was located. The room was a mix of mid-century modern style and pop, giving it an admirable identity.
My first impression was that it was a bit smaller. Here I was directly comparing it with the room at W Goa, so I was disappointed. However, it was a unique room design, a very different take on the layout than the basic hotel rooms, and everywhere there was a dash of pop color, which is classic W style. This room was unique, with long red WC doors, an open sink right in the bedroom, a prominent Marshall speaker, and a city citadel view.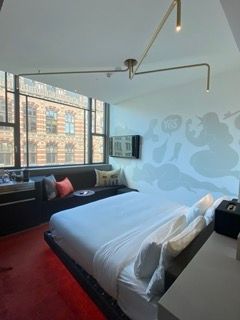 The Hotel Amenities
As I mentioned, the hotel has two separate buildings. The other building, a heritage site, was an old bank. The place is stunning; as one enters, one sees giant vault-like doors made of thick steel. As you enter, you go downstairs and get deeper into a more metallic maze of vaults, and it opens up to a massive swimming pool, a hot pool, a sauna, and a hot bath. It was one of the most peaceful swimming sessions I have ever had. With the dreamy music playing in the background, I had the most relaxing time during the trip. This definitely was the highlight of the hotel. This whole setup is part of the 'Away spa,' which we, unfortunately, did not experience.
Beyond this, we only explored a little, but the hotel has ample terrace spaces to chill and relax while admiring the city's views. The hotel has ample restaurants, which include Mr. Porter, The Duchess, and the W lounge. Still, we only ate breakfast at Mr. Porter's and didn't experience the rest.
Hit the concierge and dive into the city for great food and sightseeing recommendations.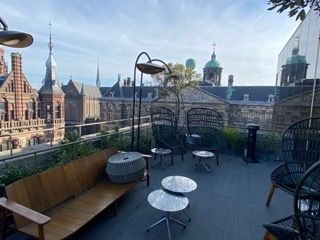 Food
As I mentioned, We did not explore a lot of food at W, Amsterdam. We ended up going for breakfast, although the breakfast was not covered in the room we had, so we ended up paying $70 for breakfast for 2, which was not wholly a buffet breakfast, with limited items on the spread and some a-la-carte options. The buffet could have been more appealing overall. We stuck to the local food options, cafes, and bars and decided to explore food in the city.
As opposed to W Goa, they did not give us a complimentary breakfast for Gold members nor points for the breakfast we purchased, which was a little disappointing.
Staff
I absolutely loved the stay and the service. We only interacted a little with the staff during our visit here, but we did speak to the concierge. Big shout out to Adam (Concierge) for sharing what we could do in the city. He gave us great suggestions for local bars, pubs, and places to visit during our stay. While checking out, he was off duty, so we couldn't convey my thanks, but he was a delight to speak to.‌
How much did it cost me
This was a complete redemption using Membership Rewards points. I used about 160K Marriott points for three nights at W Amsterdam. It was not the best of my redemptions. Retailing for an average of $450 per night on semi-peak days, I did not get the right value for my points. However, we were really looking forward to staying in this property and decided to go for this one. I suggest weighing down what best works for you: points or cash and making a calculated decision.
TLP Rating ★★★★☆
In marketing, one of the most repeated terms when it comes to selling is - 'location, location, location. This was conveniently located around the main dam square area, which made all the difference. Apart from the fantastic indoor pool and great city views, the hotel could have been larger. After staying in Paris hotels, every hotel room felt significantly huge and had space to walk around. They have great food and service, and the concierge takes the more significant chunk of the points pie. The Local Postcards would rate W Amsterdam a solid 4 stars and hope that Marriott Bonvoy elite members are felt more welcomed in the future.
---
Have you stayed at W, Amsterdam, before? How has your experience been? Do let me know in the comment section below.
---
Like what you read? The Local Postcards is an independent publishing platform. Hence you, as our reader, can support the website in various ways to keep the content inflow. Find out how by using the below link.
---
Love hotels? Check out my other reviews on hotels across India below.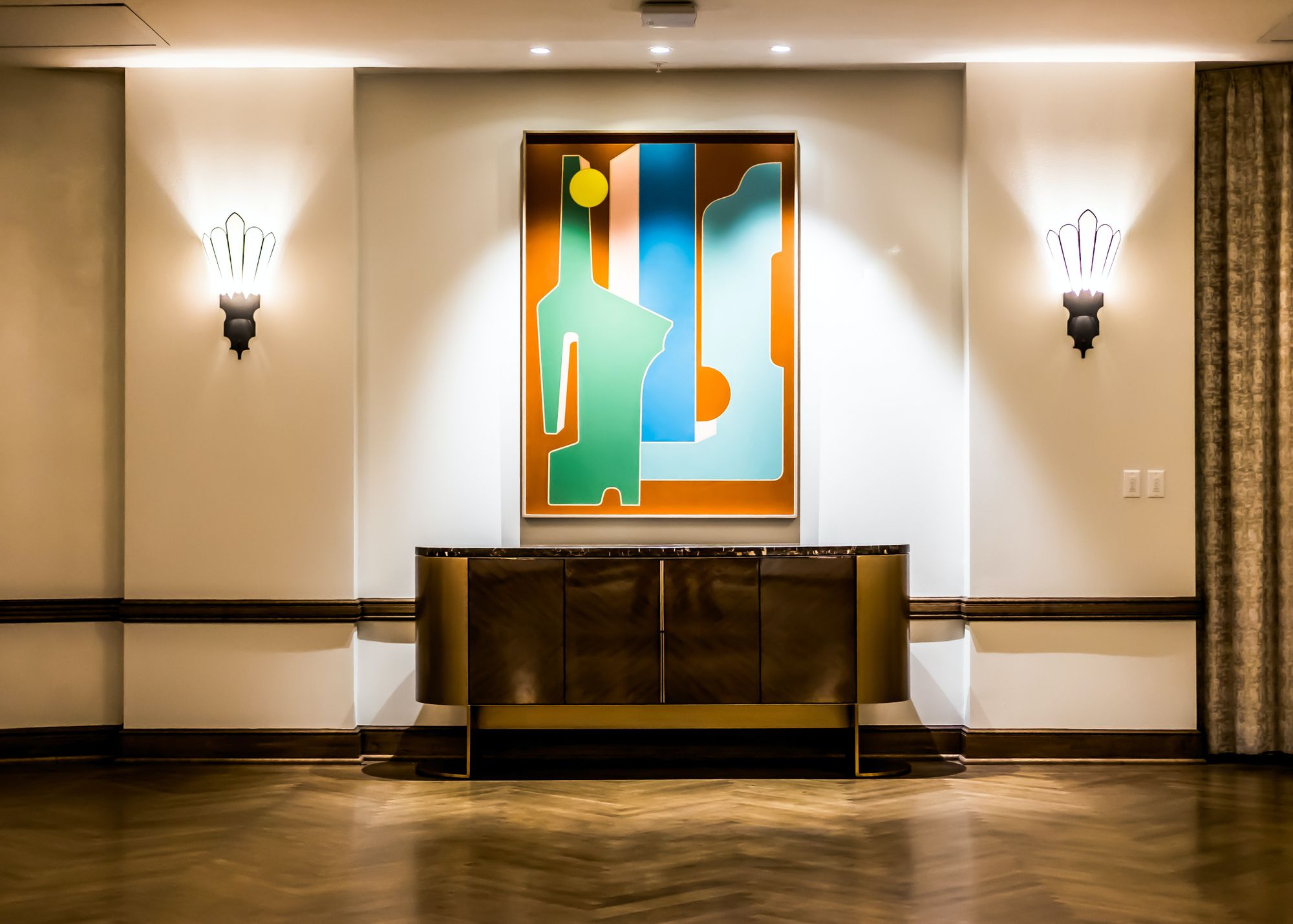 The Local Postcards Newsletter
Join the newsletter to receive the latest updates in your inbox.
---