Review: Hotel W, Goa
The party hotel chain of Marriott Bonvoy. The quintessential bling destination of Goa. The place where electronic tunes meet impeccable service. I am reviewing the fairly new addition to the pool of hotels in this beach state of India. Yes, I am talking about W Goa.
The lockdown because of COVID was proving to be very claustrophobic. I wanted some respite from the closed walls and get out and be able to breathe in some fresh air, soak in the sun and lay on a beach. Travelling during COVID also meant extreme care and precaution on how we handle ourselves and protect others around us. Hence we were on a quest to find the safest space yet one which closer to nature.
The entire review is broken into multiple sections. Please feel free to jump to the section which you would like to learn more about by scrolling down.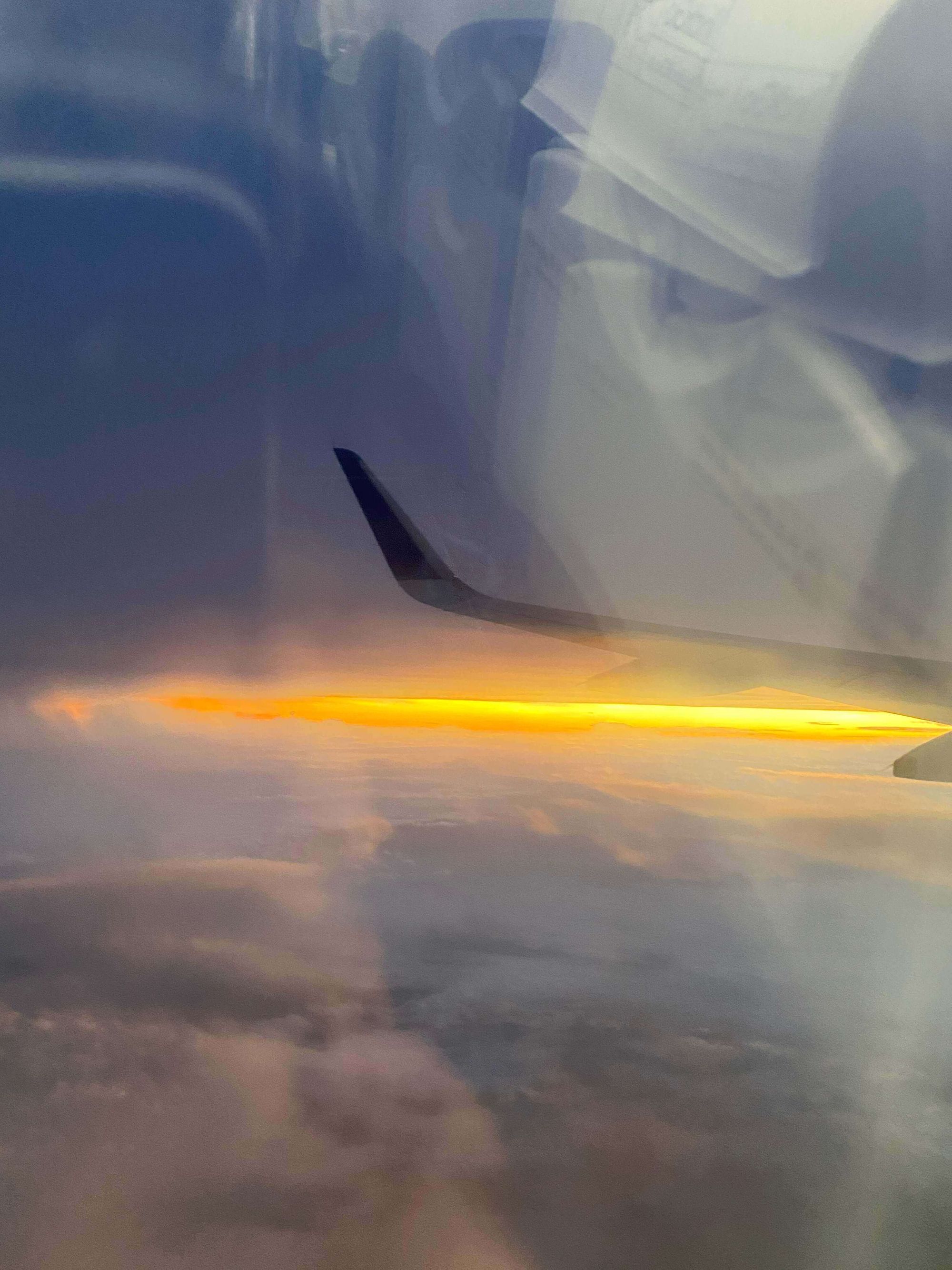 Rooms‌
We got the most basic room and were hoping that we get an upgrade. To my surprise, the entire hotel was running on full capacity. It was a little hard to believe since tourism to Goa had just started. So I was a bit disappointed. However, we ended up loving the room a lot. Below you will also find a quick walkthrough of the hotel room. You can also check Story Highlights on my Instagram page.
The washroom was huge. It almost was as massive as the bedroom. I am a sucker for big bathrooms. I do end up staying inside them if they are designed well. With large mirrors and a middle area to sit - it was one of the best hotel bathrooms I have come across so far. Plus the toiletries which they provided were of excellent quality. They had products from Bliss - the soap, shampoo, conditioner and the facewash. All the products I fell in love with instantly. So much so that I ended up exploring Bliss products when I came back home. They also have a huge bathtub with and a built-in television for the lazy bums. If you want an afternoon to unwind, you can call for some bath salts and relax for a few hours with a glass of wine (or two!)
The bed in the room is enormous. Like super huge. In fact, to be honest, it is comparable to my bedroom size in Mumbai. I was a little apprehensive about the room, to be honest. I hoped for it to not turn out to be blingy and loud. However, that was not the case at all. It did have a bit of a Goan Charm and was absolutely perfect for the design and the interiors.
Another part of the room which was my favourite was the porch space. It was quite spacious. I would suggest opting for a ground floor room - because the porch space will be huge. On the other hand, balconies are a little smaller. And for us luckily it was covered - maintaining good privacy as well.
The room overall exceeded expectations, and I have had one of the most peaceful naps in here. Thanks to the comfortable bed, and we ended up missing a lot of sunsets - for which I have no regrets at all.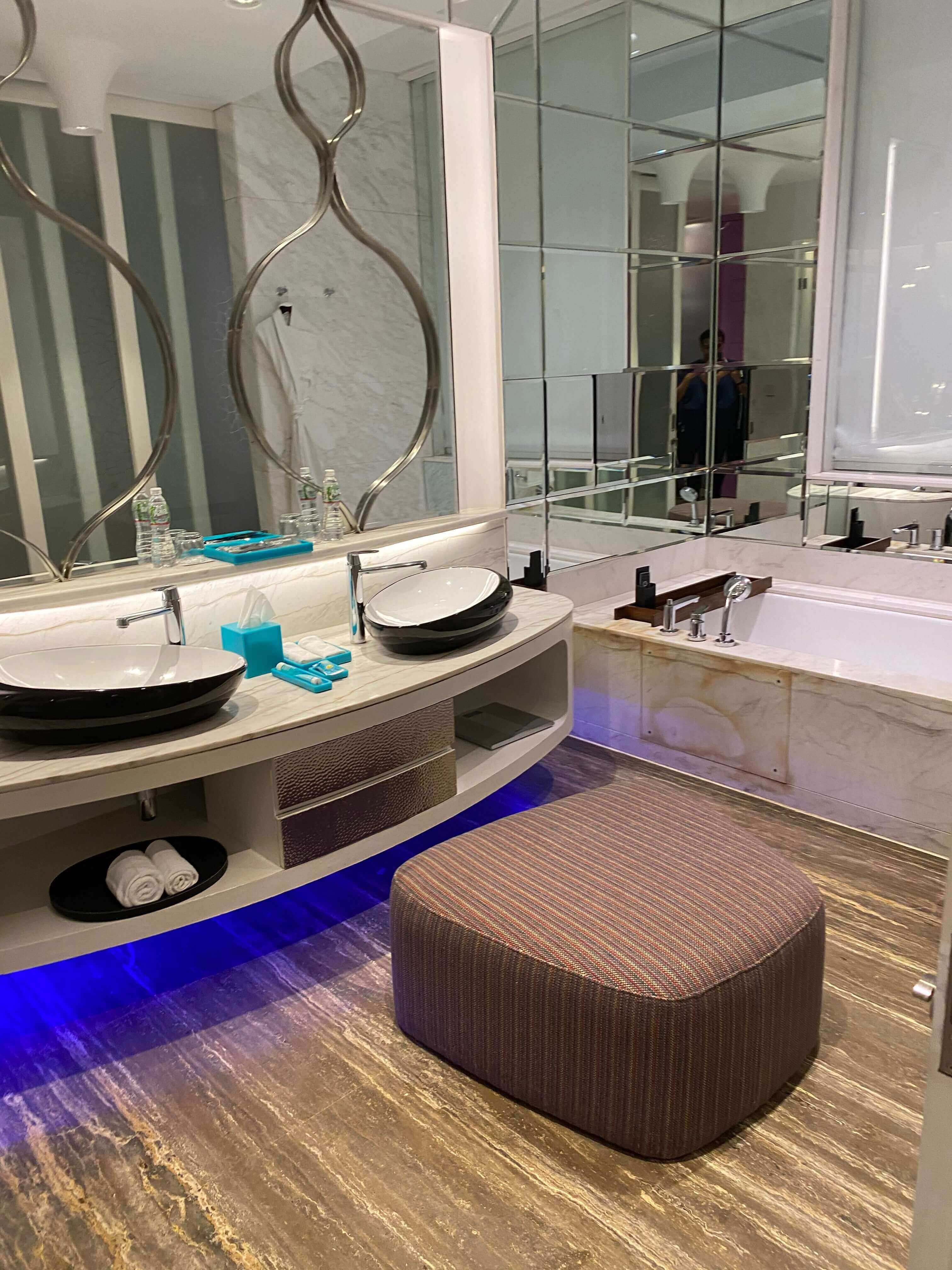 COVID Safety‌
The COVID safety measures were on point. Right from the entry to the exit, I did not feel one bit unsafe. Right from automatic hand sanitiser dispensers to masks in the property - everything looked comfortable.
In fact, you can also do away with your room card keys if you don't wish to touch anything that has the possibility of changing multiple hands. The way to access your room is through the Marriott Bonvoy App. Through Bluetooth, you can open and lock your hotel room doors. However, I found this to be a little glitchy. It did not work for me most of the times, and I ended up being a little frustrated. On the other hand, I have seen Instagram stories by various people where this was done seamlessly.
Inside the room, they had sanitation kits with hand sanitisers and masks. They also have done away with an in-room dining menu. Everything now is available on the Mariott Bonvoy app. Even the room cleaning and turndown service are on request only. So if you really want to maintain social distancing and not allow anyone in the room, that is possible.
The staff at all times were wearing a mask, be it in the hotel premises or restaurants. I observed that diligently all their staff members followed the rules when it came to wearing masks and gloves. I have seen the staff members cover their necks at a lot of properties instead of the month, which really troubles me. Luckily here I fest safe when it came to interacting with the staff members.
Perhaps the only time I felt a little unsafe was in their restaurant. This was because the customers were not wearing masks while picking up stuff from the buffet counters. On second thoughts, they could have avoided the buffet spread altogether and kept everything a-la-cart for breakfast. This would minimise further contact as well.
In & Around
The hotel is expansive, and you can definitely do a lot within the property. Because of COVID, a lot of things were restricted. We did not have pool access. The hotel has a spa (a perfect one - but we didn't end up going there). They also have a fitness centre which one can use with trainers as well.
The hotel also has a convention centre, and I think it is also a perfect place for a destination wedding.
I used the business centre to do one of my calls which I had scheduled. I made a request and ended up getting the entire conference room to myself. They didn't charge me a dime for this, and I am grateful to them for that.
Apart from the fixed amenities, they keep a lot of events and activities for the guests; A wine tasting session, personalised photographer by the hour and even regular yoga sessions in the mornings. They also have a personalised culinary experience where the chef cooks for you in your very own villa! W has redefined these luxury indulgences.
One of the best things about this property is that one can just walk to the Vagator beach. Because of COVID one evening we also got the beach to ourselves. It was drizzling, and there we were walking on the shore, look at the sunset and take in the light evening breeze.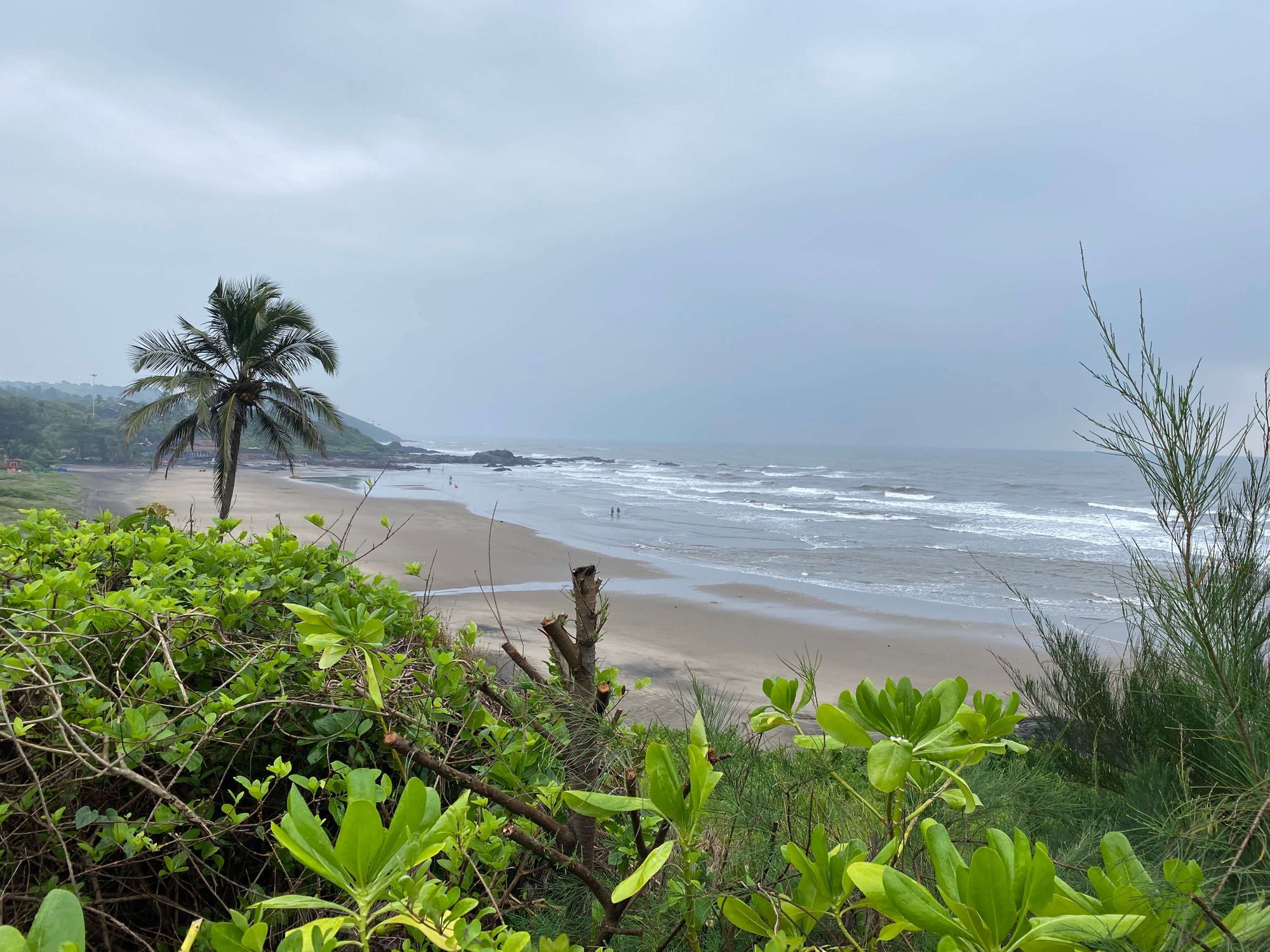 Food
The food at W is hands down excellent. Let me start with breakfast. Each morning no matter how sleepy or hungover we were, we made sure we go hit the breakfast buffet station. The restaurant is enormous, with a poolside seating option as well. Apart from the sumptuous spread that W already offers for breakfast, you can also order many made to order dishes. This we were not aware of since there was nothing put up to communicate that to us.
Once we saw coconut water on another table, which led us to ask for it - since then we started the day detoxifying our bodies from the previous night's remnants. We also called for avocado salad and a sandwich one of the days. Again, suppose this was communicated to the customers. In that case, I am sure many people would have preferred doing this - which was off the buffet table.
One thing which was super fancy was the fact that they were serving Bellini's for breakfast. Never have I ever seen this on any breakfast buffet. A first for me and a fun start to the day indeed. Though I am not sure how many people would love to go for Bellini's at 10am.
We did not order anything for in-room dining. However, we went to the Rock Pool for most of the evenings. The Rock Pool Bar has a great vibe. Sundowner music, a view to die for and some great cocktails too.
We also were at WOOBar, which is right at the entrance. It is a great place for light tidbits, and you can also enjoy your chai. That is what we did here. Ordered some chai and a plate of nachos while we were lazying on their long chairs and discussing what we can eat for dinner. I think most of our conversations were centred around food and what goes in our stomachs next.
We had also made a reservation at their Asian restaurant, Spice Traders which is very popular. However, we ended up cancelling it since we wanted to go out for a meal. We went to Tomato's that evening, and it turned out to be really lovely. You can read more about the places we ate on this specific trip here. But if you are staying at W, check out Spice Traders since the view is crazy and the recommendations to try out this restaurant were high.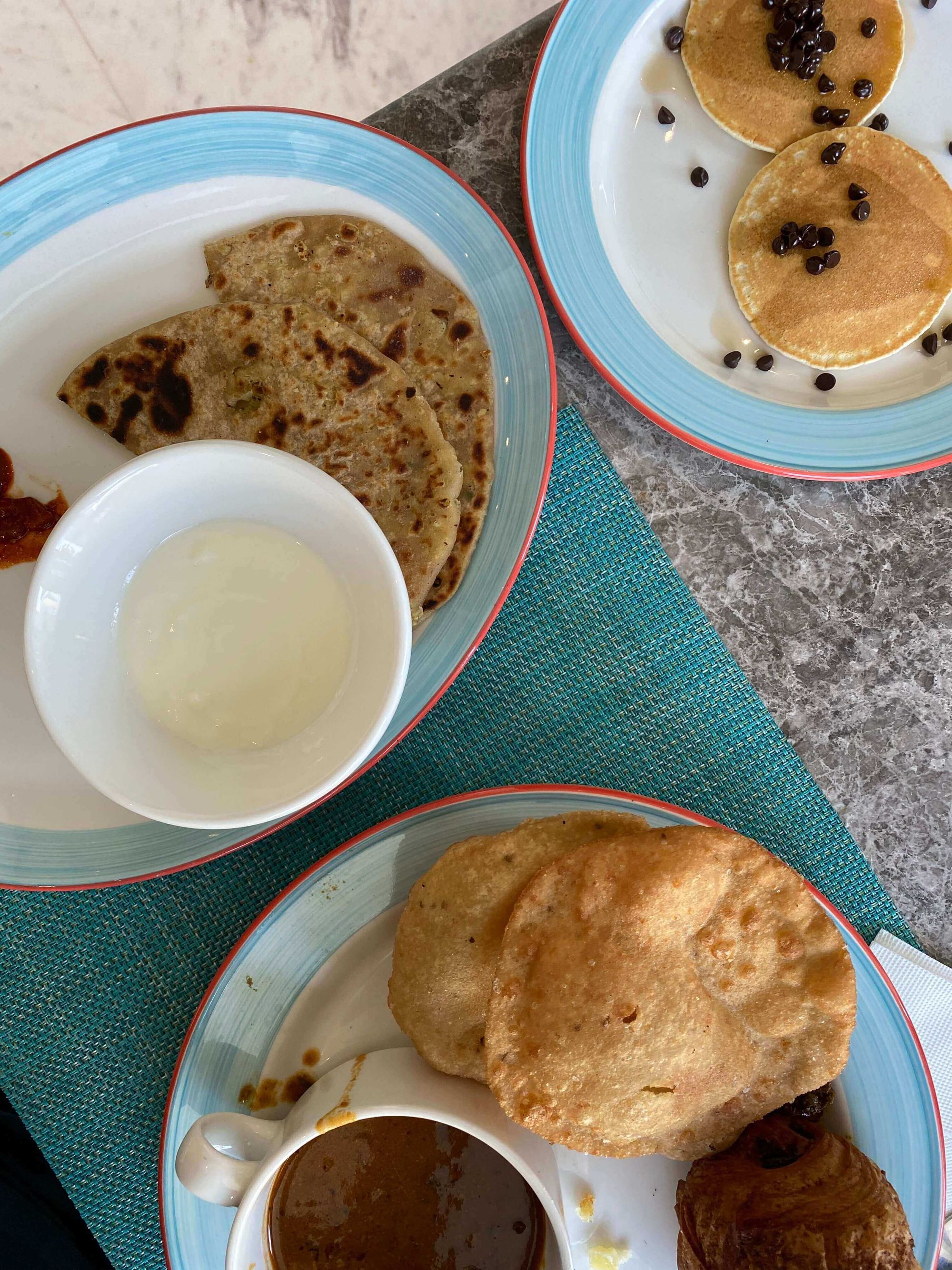 Staff
The one thing which is the I absolutely love about them is their staff. They engage in conversations with you, make you feel super comfortable and also be available to assist you with the most essential things whenever you need.
Someone from the hotel also connected with me on Whatsapp who helped us plan most of our evenings and suggesting things to do around. Thanks to him, we also explored a few restaurants and areas we can explore. We were also given some great recommendations on what to eat and cocktails to order.
I would suggest talking to the staff for recommendations as much as possible because they know the area better than anybody else. Since they have been in the hospitality business, they know which one is the trending and a worthy place to be.
Even during breakfasts, the staff always came and checked on us. Especially the chefs. In all honesty, W Staff members have the most charming smiles!
How much did it cost me?‌
I redeemed my Marriott Bonvoy Points and got the stay for 5 nights for free. I paid about 135K Marriott Bonvoy Points and booked the stay for 5 nights. I basically only have to pay points for 4 nights as the 5th night comes in free for Marriott Bonvoy Members.
To make a quick comparison - the days we stayed, the rooms were at an INR 14K/Night tariff without taxes. With breakfast and taxes, the same room went up to INR 18K/Night.
Because of my AMEX Platinum Charge Card, I automatically get elevated to the Mariott Gold Status. Usually, If you are a Gold member the hotels give you some sort of a giveaway. In our case we got breakfast for all five days we stayed. They gave it to us for 6 days since we checked in a bit early on Day 1. This was a massive surprise for us, and we were not at all, expecting this.
Overall, we got value worth INR 90K / $1250 for our five-day stay with my point redemption strategy. In my opinion, this is an excellent redemption rate. As I write this, the current rate is going up to INR 25K/Night (without taxes and breakfast). So it is safe to assume that the point redemption is entirely worth it while staying at W, Goa.
---
‌TLP Rating ★★★★☆
I would give W, Goa a solid 4/5 Stars. A near-perfect stay, an impeccable staff, great food and a solid location. I would absolutely recommend W, Goa for your visit. With COVID being here and likely to stay for long, it is imperative how we look at hygiene and sanitation guidelines. Please do write to me or DM me about your experience here on my Instagram @thelocalpostcards.
Anything that I missed out on? Do let me know - if there is something more you would want to know about.
The Local Postcards Newsletter
Join the newsletter to receive the latest updates in your inbox.
---