More than double Bonus MR Points on AMEX Platinum Travel Card
Learn how to earn 48,000 Bonus Membership Reward Points on your American Express Travel Credit Card in 2021 instead of the usual 25,500 MR Points.
When I received the email on this particular reward point bonus offer, I was confused. On AMEX Platinum travel card once you spend 1.9L in a year, you receive 7,500 Bonus MR (Membership Rewards) Points, and on spends of 4L in a year you receive 10,000 Bonus MR Points.
With this offer the same has increased to 15K MRPoints on 1.9L Spends, and 25K MR Points on 4L spends. I thought I misunderstood. I already have crossed the 1.9L threshold then why did I not receive the pending 7.5K points. Only 7.5K  bonus MR points were credited.
On reading the fine print, I realised that one has to get in touch with the AMEX Customer service over the chat option to get the remaining points. That is literally a whopping 25K bonus points by just chatting with the customer service representative over the app twice asking for the points to be credited.
This is what the fine print reads in the email: You earn 7,500 Threshold Membership Rewards Points and 7,500 Bonus Membership Rewards Points on spending ₹1.9 Lacs, and 10,000 Threshold Membership Rewards Points and 15,000 Bonus Membership Rewards Points on spending ₹4 Lacs, in a Cardmembership year. Bonus Membership Rewards®points will be credited to you only when you reach out to us via chat through the Amex App or call the number at the back of your card once you reach the spend milestone.
You also receive a 10K Taj voucher on 4L spends which was already present. So in total with the base points, minimum threshold points and bonus points you can get about 48000 Points and a 10K Taj Voucher. To put things in perspective, a 48K MR Points can get you three nights at Renaissance Mumbai for free. Last year with similar spends,one could only make 25.5K MR Points on 4L spends. I would say it is quite an upgrade.
So make sure you reach out to them through the app to claim this offer benefit.
If you do not have the card then consider applying for it  through this link to apply for your new AMEX Platinum Travel Credit Card. Plus you also earn 2,000 MR Points when you spend INR 5,000 in the first 90 days of Cardmembership + Zero annual fees for the first year.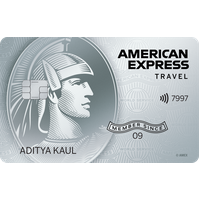 If you want more details on why you should go for this card, consider reading my detailed review about American Express Platinum Travel Credit Card here.
---
Like what you read? Support us here :)
The Local Postcards Newsletter
Join the newsletter to receive the latest updates in your inbox.
---