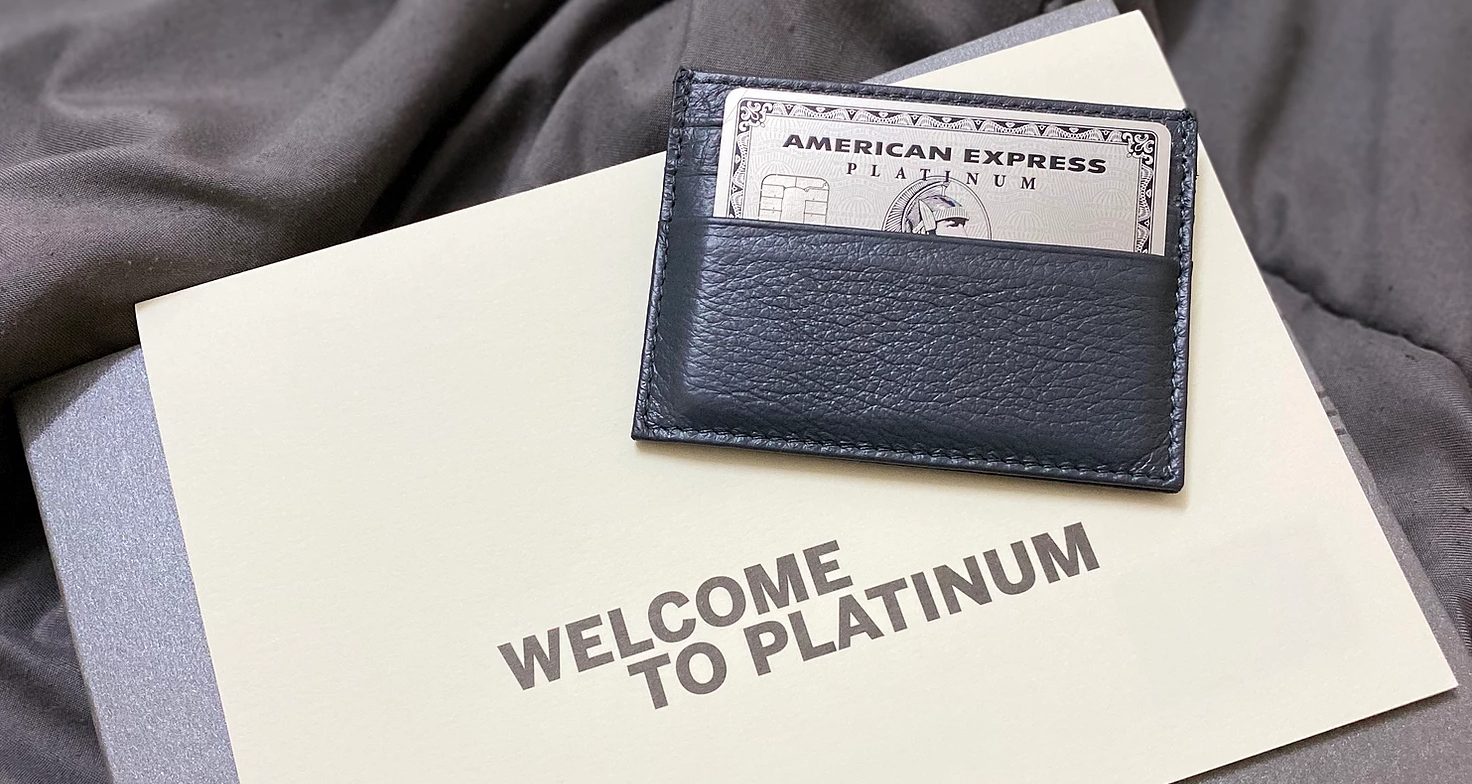 Detailed Review: Amex Platinum Charge Card India
With the highest credit card fee in the Indian market, what makes this credit card tick? Let us understand if it is really worth it or another that failed to deliver real value to its customers. Here is my review of the American Express Platinum Charge Card after using it for exactly one year.
This is a review I have been waiting to write for a very long time. However, I did not want to share my experience with the card in haste. I have used the American Express Platinum Charge card for precisely one year. I got it in January 2020. Below are my thoughts on the American Express Platinum Charge Card.
You can check how excited I was in this particular post where I had described the look and feel and my first impressions. However, I will be covering the same basis of my usage over a year.
This review will be a long read so incase you want to skip to a specific section; please feel free to scroll down and read up about that.
---
Look & Feel of the card
The look and feel are quite premium.This is a metal card, and the first look is super luxe.
It does come in a very swanky box, and it was delivered just in 3 days of my card approval. They have detailed out all the benefits indie the box itself.
The look and feel are fantastic. However, it is not the only metallic card which is now offered in India. The CC is slightly heavy than its plastic counterparts, and the everlasting shine makes it more desirable. It definitely will last longer than your regular credit cards, and my guess is it will not wear out quickly.
After using this for a year, there is hardly any wear & tear on the card. One can always go for a card replacement if you want your metal card to be ever shining.
If you want to read up more on the first impressions of my card visit the below link to read.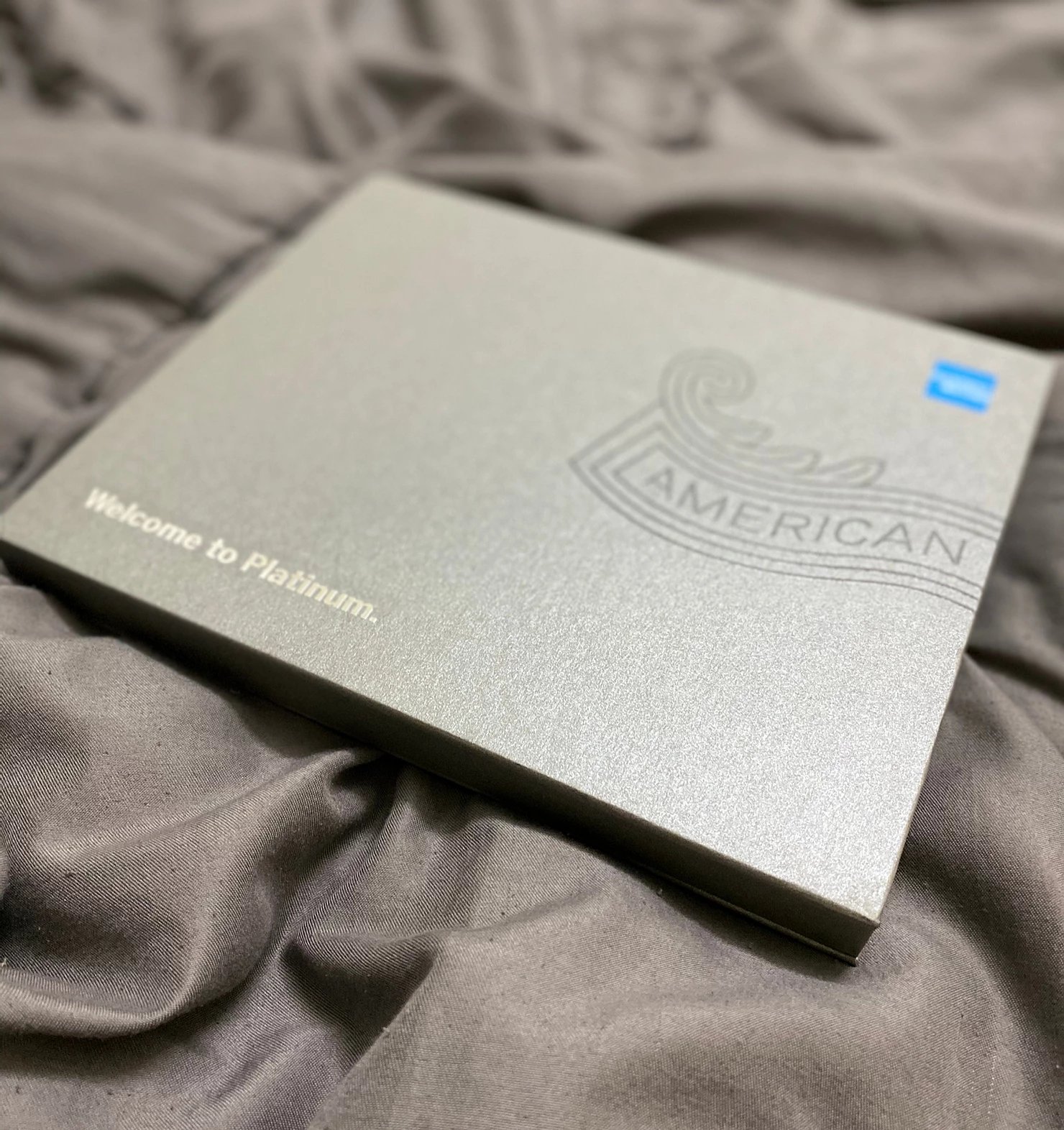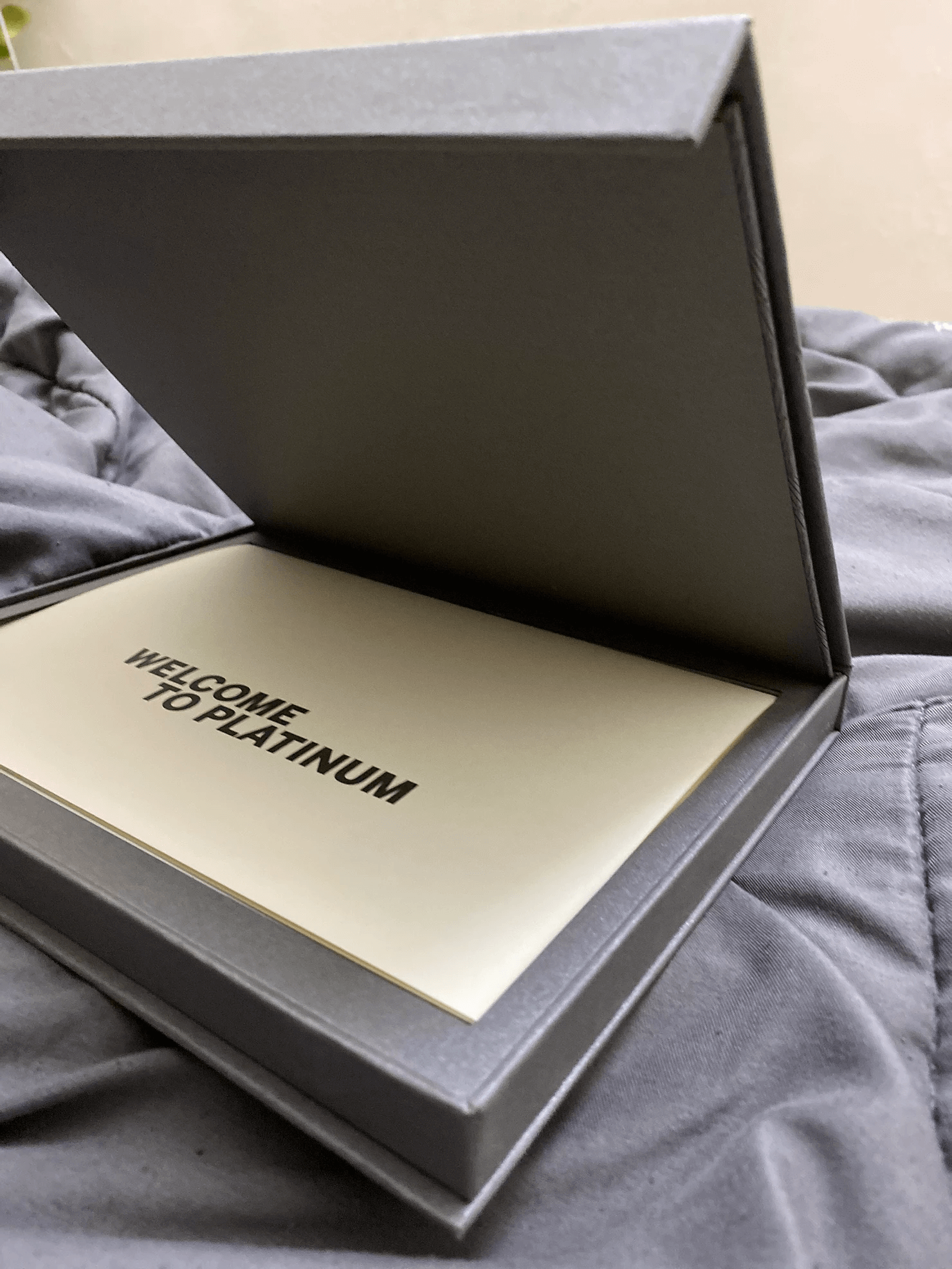 ---
The Credit Card & Eligibility
Until last year they had stricter and much higher eligibility criteria. However, as of now, they have relaxed the eligibility criteria a bit. Of course, the essential ones are to be above 18 years of age, have no payment default history, and currently be a resident of India. However, their income-related eligibility is steep. One needs to have an annual income of over 25 Lakhs if employed or if self-employed the yearly personal income needs to be over 15 lakhs.
If I have to compare this with the Citi Prestige criteria, this one is better. For Citi Prestige, one needs to have a minimum corpus of 25 lakhs in one of their savings account and an income of 25 lakhs or more. This information is as per my last conversation with their team over a phone call. So technically applying for an American Express Metal Card is much more comfortable.
TLP Tip: If you are an existing AMEX user and targeted for the offer to sign up for the AMEX Platinum Charge Card, then go for it. Otherwise, it may be challenging to apply and receive a positive response.
---
Sign up bonus
AMEX targeted me for this card. What this means is I did not intend to apply. Still, I was invited to sign up for the Platinum Charge Card because of my earlier AMEX Cards ( Platinum Travel & Platinum Jet Privilege).
They offered me a signup bonus of 1.25 lakh Membership Reward points or ~INR 70K Taj Vouchers. I went ahead with the 1.25 Lakh MR points since I could use them at many other places per need and not just Taj Properties.
However, the standard sign up bonus is 1,00,000 Membership Rewards Points or stay vouchers from Taj, SeleQtions and Vivanta Hotels worth INR 45,000.
It depends on what you would want to select. However, the ideal case scenario would be to cover the cost of the card at once. So I would suggest going for the MR points at redeeming them at the right location.
You will receive your sign up bonus MR points within 6-8 weeks of card fee payment and spending a minimum of INR 50K in two months. When the card was issued to me, my minimum spend was INR 90K in three months which again is a little steep if there are no big purchases planned.
TLP Tip: Apply through this link to get 1.2 Lakh MR points instead of 1 Lakh MR Points.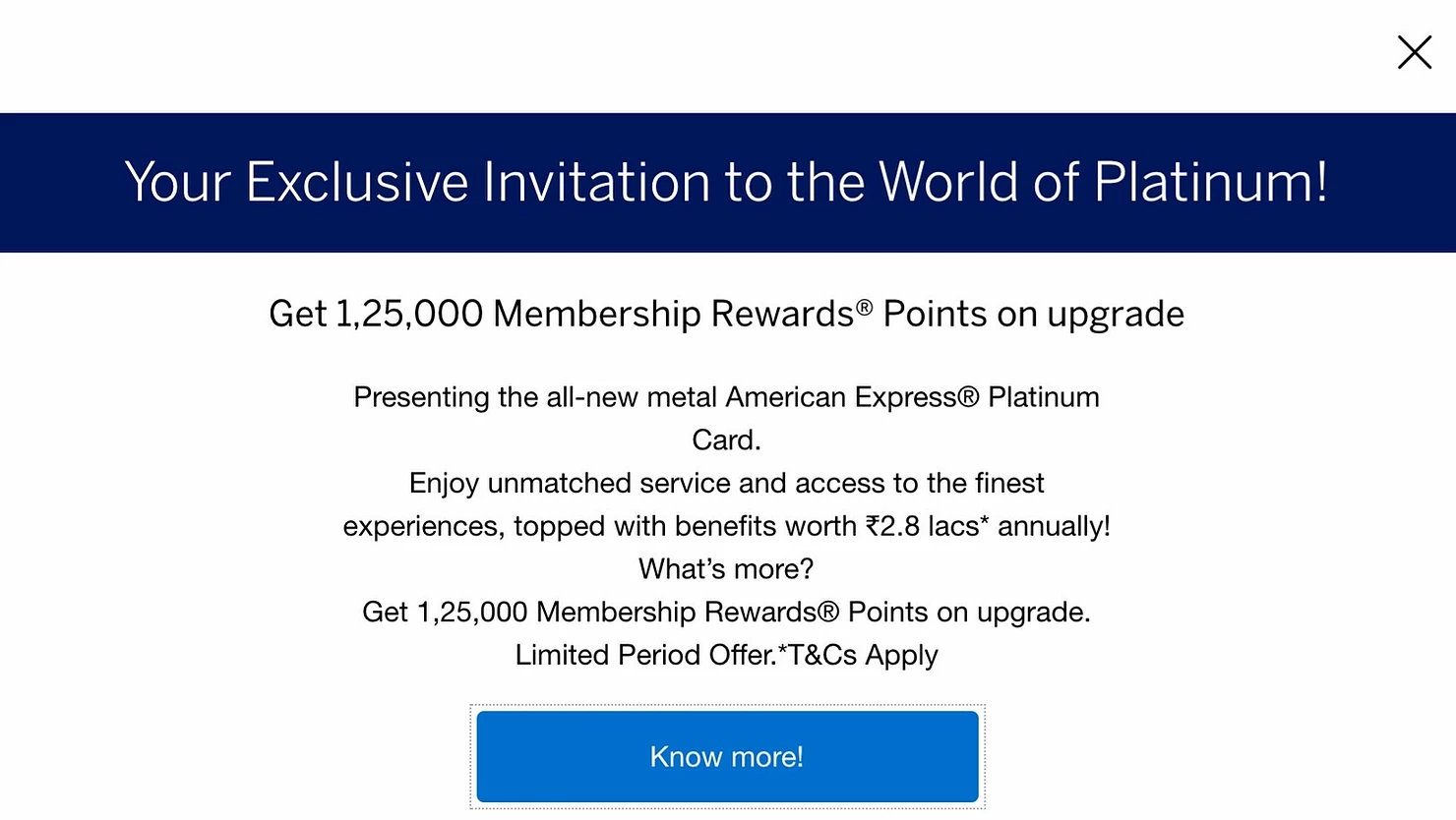 ---
Benefits
The Platinum Charge card offers a plethora of benefits. Provided one can spend more through this one. I will break down one by own for your use and elucidate if this is the best thing out there for you.
24x7 Concierge Service: This I have hardly used this one, but one can demand anything to the concierge. From booking business class tickets to ordering flowers or a ride to the airport, even hunting for a limited edition art piece. They do it all.
International Travel Insurance: Again, this is something which I have not used. Primarily because I have not travelled internationally, perhaps this year, I may use this feature of the card.
Fine hotels and resorts collection: This is a great benefit. If you book through the portal, you are eligible to receive room upgrades, a $100 matching welcome gift, which is either a breakfast or dinner or airport transfers. They also give a guaranteed early check-in and late checkout option. They do not have many hotels covered under the Fine hotels and resorts collection program on the downside. They only cover major cities in India and do not offer other luxury properties under this banner. I booked my stay at St.Regis Mumbai recently through this portal.
Business to First upgrade on Etihad: If you are booking a business class ticket on Etihad through AMEX travel portal, you will receive an upgrade to a first-class ticket. This is a massive benefit considering on a typical day the price difference between business and first-class on a BOM-NYC route is about INR 1.5 lakhs.
Airport lounges: This is one of the best benefits on the card. Access to most of the lounges across the world is offered. Moreover, you also get access to all the American Express Lounges and their Centurion Lounges, known for its bespoke hospitality and experience. If you are not travelling business or first this is a great way to enhance your travel experience.




Travel Portal: They have a dedicated travel desk that helps with all your travel concerns, booking, and designing an itinerary. You can redeem your MR points here as well for flights, but I would advise against that. The ideal way would be to transfer the MR points to the various travel partners and then redeem.
Elite Tier Memberships: This is another benefit which I love. If you love chasing loyalty benefits, you would know, climbing up each milestone ladder can be a pain, especially when it comes to hotels. With this card, AMEX provides Elite Tier Memberships without additional spending and working hard on the way up on Taj InnerCircle Silver Tier, Marriott Bonvoy™ Gold Elite Status Hilton Honors Gold Status, Radisson Rewards Gold Status, Hertz Gold Plus Rewards and Shangri-La Golden Circle's Jade Tier. Out of all of the above, I have used my Marriott Gold Membership the most. With room upgrades and free breakfasts, the membership does come in handy. I do not have to spend 25 nights at a Marriott Property to earn the reward status.
Invite only events: There was no invite-only event in 2020 due to the pandemic. So I have never experienced it first hand. However, I have seen other Platinum Cardholders get invited to U2 concert and Sunday brunches across various restaurants. Hopefully, when in-person events start happening again, one will be able to reaccess these benefits.
Global Dining Collection & Platinum Fine Dining: One can get up to 25% or more discount at various fine dining restaurants. Usually, when you book through a concierge, you get a reserved table at the most sought after restaurants in the city. From my understanding, AMEX usually has one table reserved for their guests across most of the Michelin Star Restaurants - which might take weeks to secure a reservation if booking through the regular route.
Cashback: I have kept a separate section for this. Scroll down to check.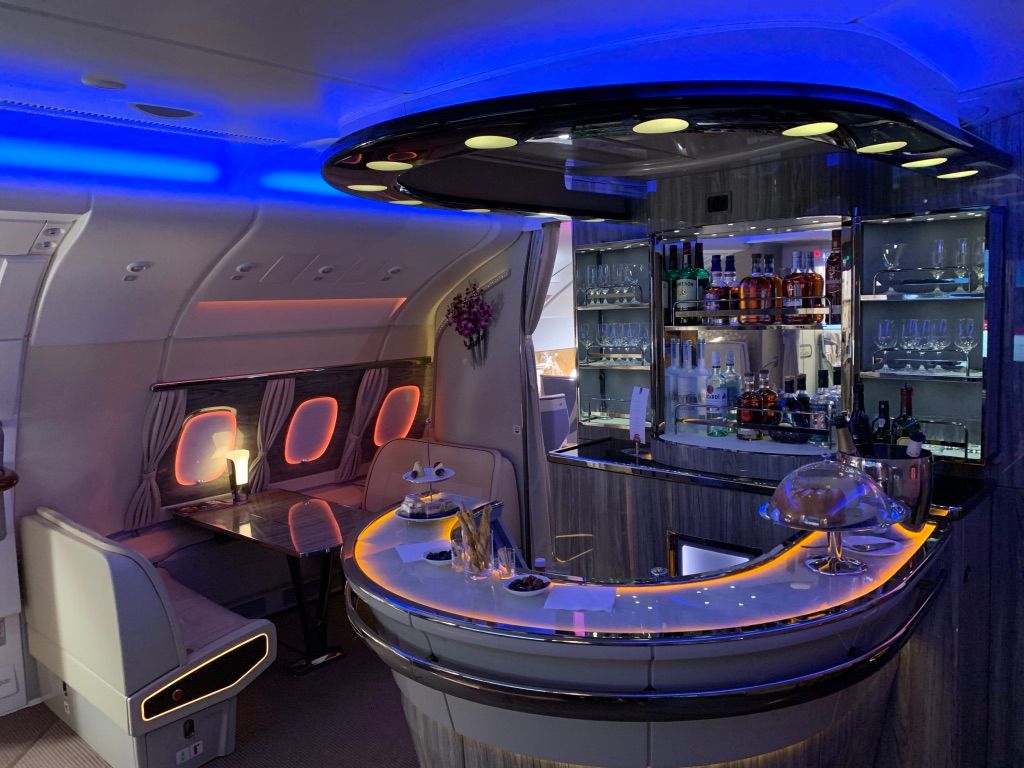 If I have to rate in priority the benefits I love from the above, it would be lounge access, elite tier memberships and cash backs. For various people, it varies depending on the way they use the card and their lifestyle habits. Some are swanky, some are one-time use and some times you might not even know what the reward is. But the above list is undoubtedly a winner for me.
TLP Tip: Apply for this card and ensure you have all your family members enrolled as supplementary cardholders. Therefore the benefits could be shared by all the members. However, a couple of offers are restricted to the Primary Card Holder.
---
Membership Rewards
I will break down step by step how one can earn maximum MR points through this card.
1 for 40: For every INR 40 Spent you would receive 1 MR point. This is one of the best which they can offer amongst all the AMEX Cards.
Never Expiring MR Points: The beauty of collecting these points is that they do not come with an expiry date. This is excellent considering you want to accumulate points for a specific goa then this option helps to stash until you reach the point milestone you have planned.
3X on overseas spend: If you love to travel abroad and spend, this is the card that will earn you more MR points through accelerated MR earnings by 3x.
Rewards Multiplier: A few months ago, during the peak of COVID-19 lockdown, they introduced rewards multiplier. A marketplace of curated brands through which you can shop online and get accelerated MR points up to 5X. This is really great to ear accelerated MR Points. They sometimes also aceelerate it even further uptil 15X during certain festivals.
Pay with points: You can always pay with your MR points and earn a statement credit; however, the value here is far less than any other place where you can redeem your points. I would advise against paying your card bill with points. It will be a sheer waste of your hard accumulated MR Points.
Refer to earn: You can also earn more MR points by referring the Platinum Charge card like me here. You will receive 25K MR points for each successful referral. Recently they were running an offer where each successful referral would earn you 35K MR points.
The bottom line is the points earn ratio concerning spends is not very high. However, with AMEX team throwing out many accelerated earnings this year, it is a good point earn ratio overall.
---
Cashback Offers
With the onset of the pandemic, AMEX is offering quite massive cashback offers. I have written extensively about one of them below.
However, to break it down in fewer than eight months, AMEX has given cashback offers ~INR 60,000. And these are 100% cashback offers. Over this, they have also given offers where there is a spend threshold. For example, their ShopSmall offer in December enabled a cashback of INR 500 on minimum spends of INR 1,500 on their retail partners. Through this alone, I earned a cashback of INR 2,500 in December 2020.
With many cardmembers not heading out for business or leisure travel, this is a great way to get more value on the card while sitting at home. Moreover, they have decent partners like Flipkart, Croma & Zomato, where one can redeem these offers.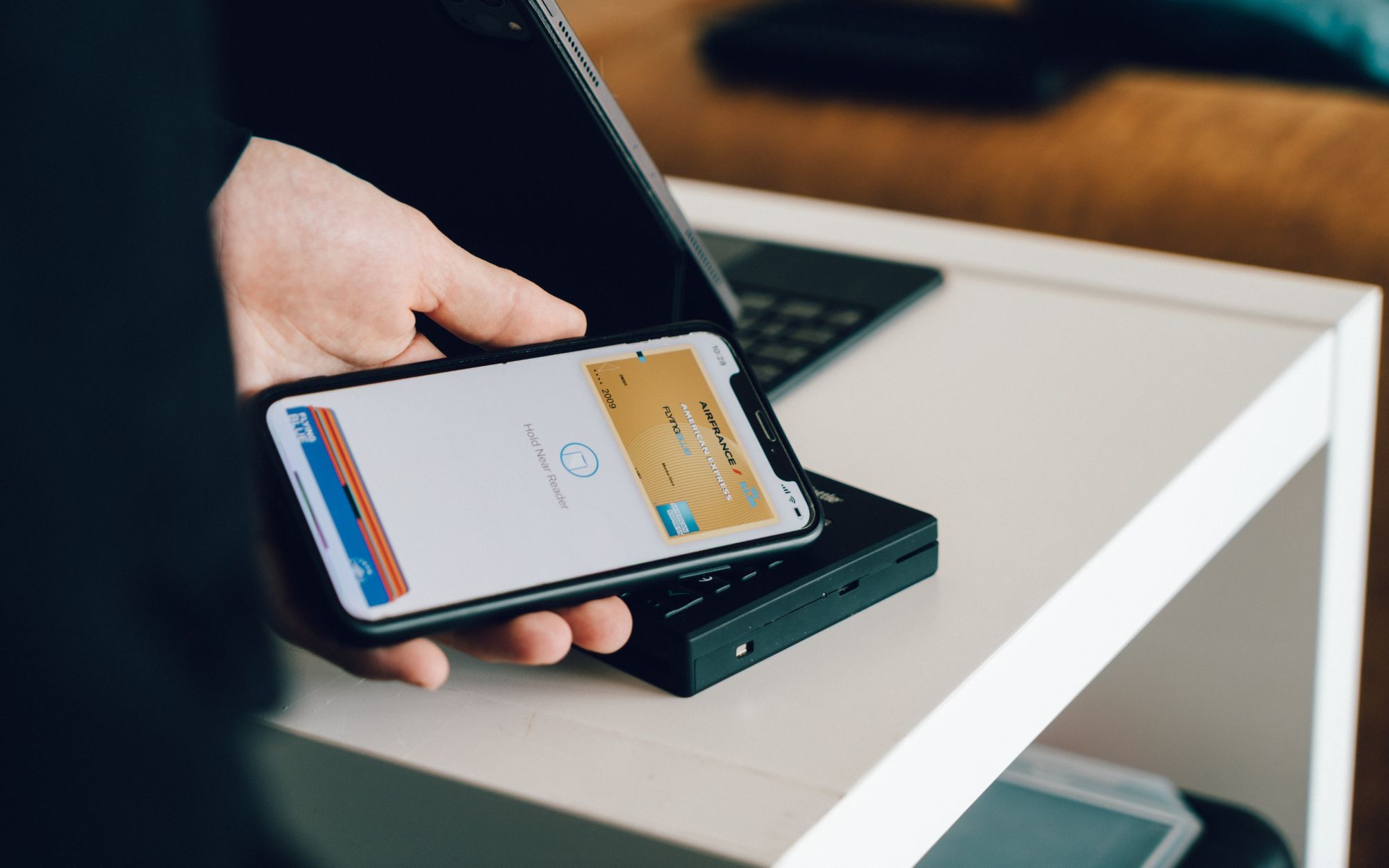 ---
Customer Service Support and AMEX Mobile App
The customer service is exceptional—the best in the country. The time to connect is minimum. The customer service representatives make sure our queries are heard as well as, and there is prompt resolution.
This is significantly faster for Platinum Charge Card Customers. Of you hold the Metal card, you are going to be pampered for sure. The thing which I also love about customer service is how approachable they are. They even have a chat option where you can almost ask anything.
If you are on the move or don't feel like chatting up over a call, then hit them up with a text.
The mobile app is beautiful, in my opinion. It is easy to use and pretty straightforward. The app has a main page where you can track all the spends.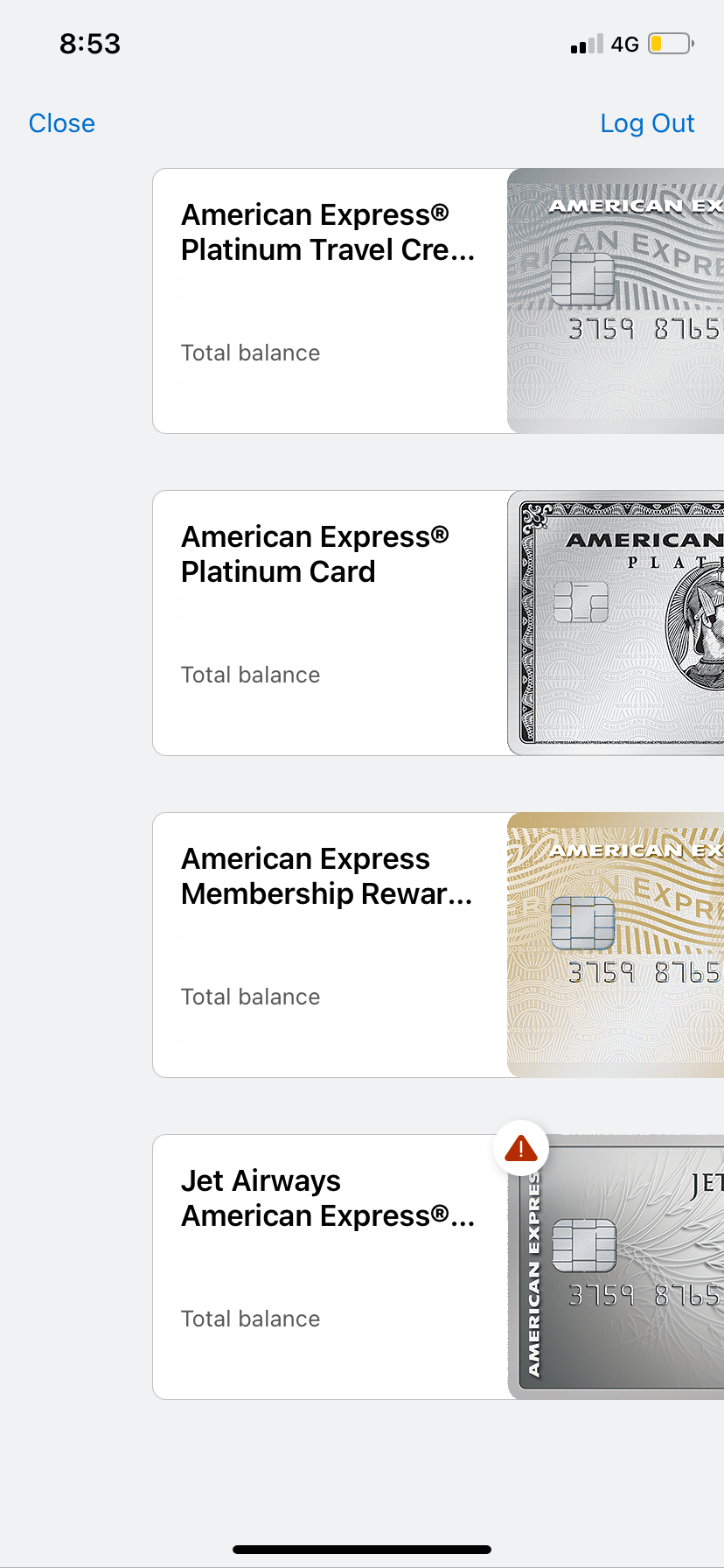 My usage points accumulation, and redemption of benefits
I earned about 1,55,000 Membership Reward Points in a total of 1 Year. As you would notice the points earning is not very high. A chunk of it is thanks to the signup bonus only. I spent most of my MR points on booking a 5 Day stay at W Goa, close to INR 90K in Value.
Other than this I got three cashback of INR 18,000 INR 12,500 and INR 2,500. Plus an Apple Appstore Cashback & Calm Membership worth INR 6,000. My St Regis savings through fine hotels and resorts was INR7000 and the card fee of my other two AMEX cards for the year 2020 comes out to INR 6,500 plus a few hotel upgrades and free breakfasts.
So overall I saved about INR 1,53,500 through the year 2020. The net benefit after the card fee is INR 83,300 for this specific card. Not bad, I would say.
In short, my benefits were almost twice as much as the card fee.
TLP Tip: If you have other AMEX cards, you might not have to pay your other cards fee. I hold AMEX MR CC and AMEX Platinum Travel Card. The cumulative fees for both of these cards from year two onwards are INR 9,500 + taxes. So that way, the effective price of having the AMEX Platinum Charge card becomes a good 16%.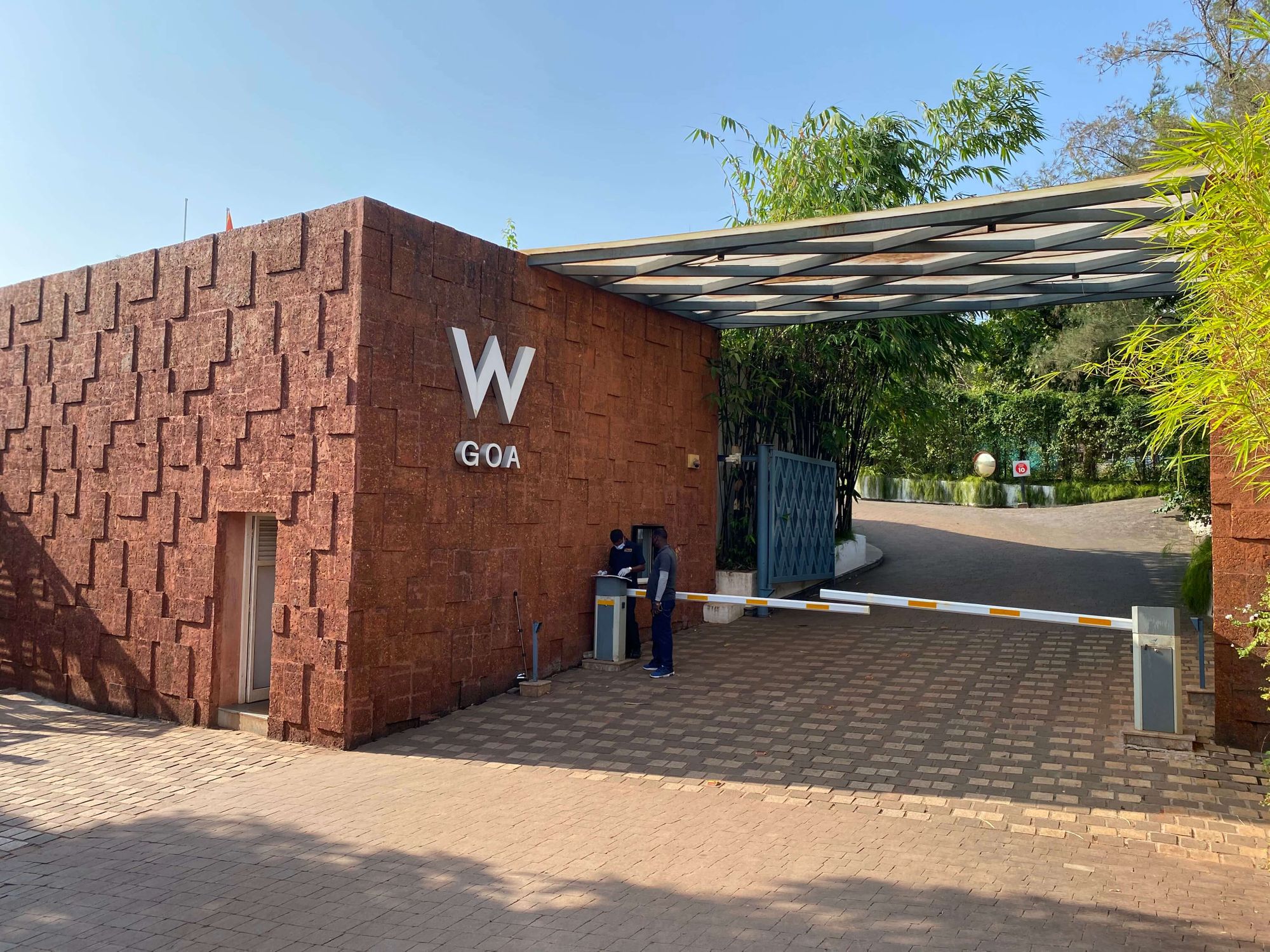 ---
Year 1 Renewal benefit
There are usually no renewal benefits when it comes to Platinum Charge card unless one negotiates with them. I have heard stories on FB groups where people have been offered over 150K MR points and ~70K Taj Vouchers. However, when I tried doing the same with their customer retention team, they only provided me with an INR 20K benefit.
I tried negotiating for more given the price point, but it did not work out for me. However, what they offered was break my card fee into 12 instalments for me. Which essentially comes to INR 5,900 a month. This seemed like a fair option to me since I would not have to shell out a massive amount all at the same time. Plus no extra charges were levied apart from this one. However, having said that this is a bet I am taking in. The exclusivity of having this card is also a driving factor.
Recently I also learnt that Fee waiver is not something the AMEX team does. They might consider if the spends are on the higher side, which is more than INR 60 Lakhs per Annum. Even with spends as close as INR 30 Lakhs the AMEX card retention team hardly offers a waiver.
In my understanding, there is a direct correlation between spends and renewal benefits. If this card suits your needs, you may want to use it only to increase overall spending.
TLP Tip: If renewing and one-time card fee payment is pinching you, go for a staggered payment option for the same. INR 5,900 a month will be much more comfortable rather than a one-time payment while retaining card membership.
---
Referral Link to apply for the card
If you have made it to the end of the section, the probability is high that you are interested in the Platinum Charge Card. In case that is something you would be interested in then go ahead and sign up using this link. If you use the below link, you will receive an additional 20,000 MR points, which is not bad. I am assuming this is a limited time offer since earlier it used to be 10,000 bonus points.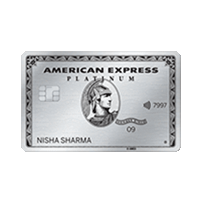 Because of COVID-19 AMEX team has been throwing a lot of offers. I keep updating them on the link given below. Please look at the same regularly to not miss out on offers and maximise the card benefits.
TLP Tip: Once signed up refer your close friends and family to amp up your point earning. For each successful referral, you will receive about 25,000 points, which is not at all bad. This, however, is capped at 1,50,000 points currently.
---
Overall TLP Rating ★★★★☆
The American Express Platinum Card is the only card in India offered at an annual fee of INR 70,800 per annum. It qualifies to be the most expensive credit card in India. No other premium category cards come close to the price at which this one offers. With American Express rolling out a ton of offers it is easier to cover up for the recurring annual fees. However, the value for the same card in the US is much more. With lower annual costs and benefits that give a lot more in the US, India's AMEX Platinum Charge card weighs low.
The platinum customer support and concierge service are exceptional, and they will adhere to all your needs. If the pricing is a tad bit on the lower end with the same benefits, this card may qualify to be one of India's most rewarding card. Sadly, at this point, it is not.
If you are someone who loves to travel, can make use of the multiple lounge visits, looks forward to hotel upgrades and shops luxury, this card is a perfect fit. My overall rating of this card is 4/5 stars.
If you have any queries regarding the AMEX Platinum charge card, please feel free to ask in the comments section below. Also, please share your experiences with using the card.
---
Like what you read? You can now support us by visiting the below link :-)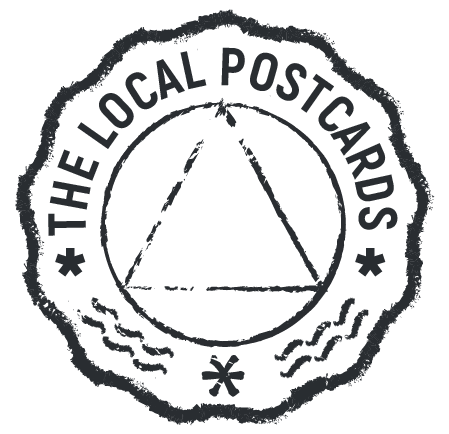 The Local Postcards Newsletter
Join the newsletter to receive the latest updates in your inbox.
---