Sign up for Qatar Student Club for discounts & added perks
A lot of us are going to be travelling this fall once the restrictions open up. A lot of people I know will be travelling to the US. This is the time when everyone starts searching for options that give them maximum benefit.
Like most of you, I am also trying to figure how can I maximise travel benefits to the US. One of the ways you can start by signing up for the Privilege Club, Student club edition.
Through this program, a student can get the following:
Special fares on flights
One can get 10% off their first booking and 15% off on their second booking. If you chose to fly with them for a third time, you get 20% off your third booking. I think that is not a bad deal at all.
Excess Baggage Allowance
As a student one is always looking for ways to maximised their baggage for free. With the Student club member, you can now carry more with you. As a Burgundy Student Club member, you can take an additional 10 kgs or one more piece of baggage on flights depending on your route.
Date Change Flexibility
As a student, you mostly book way in advance to save on those extra dollars. However, a last-minute change in plans may leave you with a tough decision to make and lose money. By signing up for the Student Cblu at Qatar Airways, you get one complimentary date change option. A flexible book option right there for you to go stress-free.
Privilege club tier upgrade as a graduation gift
If you take a flight once a year with Qatar Airways as a Student club member, you will receive a tier upgrade when you graduate. This one is basic. If you are not a frequent flyer, this one does not add a lot of benefits—however, nothing to lose on this one. Perhaps a better graduation gift could have worked wonders for the entire Student Club program.
Complimentary Super Wifi
If you book on qatarairways.com or their mobile app, you also get complimentary high-speed Super Wi-Fi to stay connected on board with the fastest high-speed broadband in the skies. Not bad for a long haul flight. Especially, when you have just left the country and wish to be connected to family. Win-Win.
Soon: Family benefits
They haven't launched exactly what covers the Family benefits. Still, they mentioned that they would be adding a host of services for the immediate family who wants to visit their children. I think this is an exciting proposition for students to sign up. I will wait for them to launch this and update this section.
So to be eligible, you need to show some proof of admission. I uploaded my acceptance letter while signing up, and they almost immediately approved my account. So a university graduation letter works perfectly.

Use this link to sign up to get a bonus of 4000 Qmiles as well, which you may not get when you sign up directly with them.
---
AMEX Transfer Partner
If you are using AMEX, then you can also transfer a host of your MR points. You can convert 3 MR points to 2 QMiles. You can easily do it through your American Express Dashboard under the Rewards tab and then selecting Airline Transfer Partners.

This means that if you have about 1 Lakh Membership Rewards (MR) points, you can get about 66K QMiles after transferring. You can book a business class ticket from Mumbai to Doha with these many miles, which currently starts at INR 1.6 Lakhs. With this deal, AMEX gives INR 1.6 of value for each MR point, which is an excellent redemption.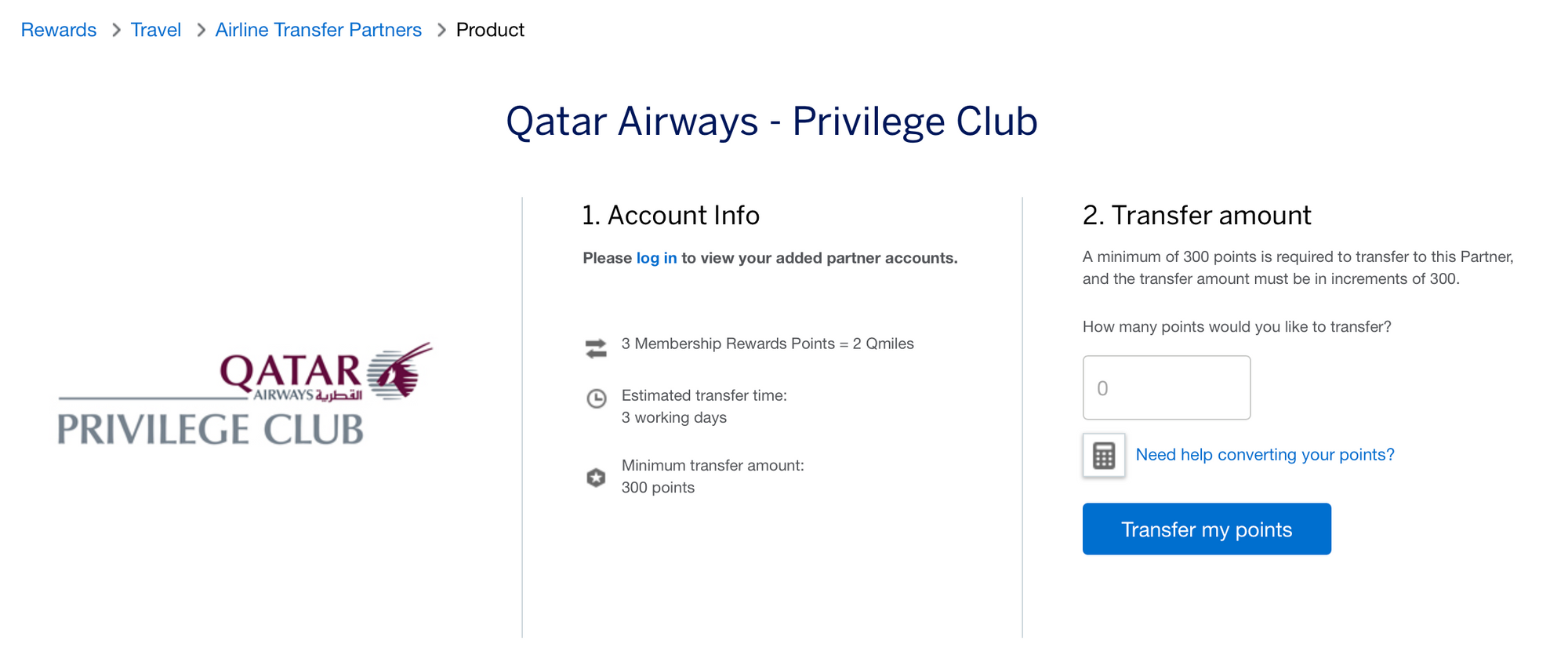 In my opinion, this is a fantastic offer. Just check the routes they fly to, and if your destination is covered and have regular flights, it should be an added advantage. I am very, very impressed. As someone who will be a student soon and is continuously looking for offers and deals, this one is a no brainer. Once again, if you wish to sign up, use this link because you will get a bonus of 4000 Qmiles. However, when you sign up directly, you will lose out on those extra miles.
---
Do you like the content we bring to you? If it does add value to you, please consider supporting The Local Postcards in various ways to keep the blog going by visiting the link below.
The Local Postcards Newsletter
Join the newsletter to receive the latest updates in your inbox.
---