GoAir rebrands itself to Go First
With the new brand identity in place, GoAir has renamed itself as Go First. The proposition being 'consumer comes first' and they want to still position themselves as a low-cost no-frills carrier service.
They do have a pretty confident communication - that high airfares do not meddle with the travel plans of any of us. Their new messaging ensures that they are serious about running the low-cost game in India, no matter how competitive space is getting with other players like SpiceJet and Indigo.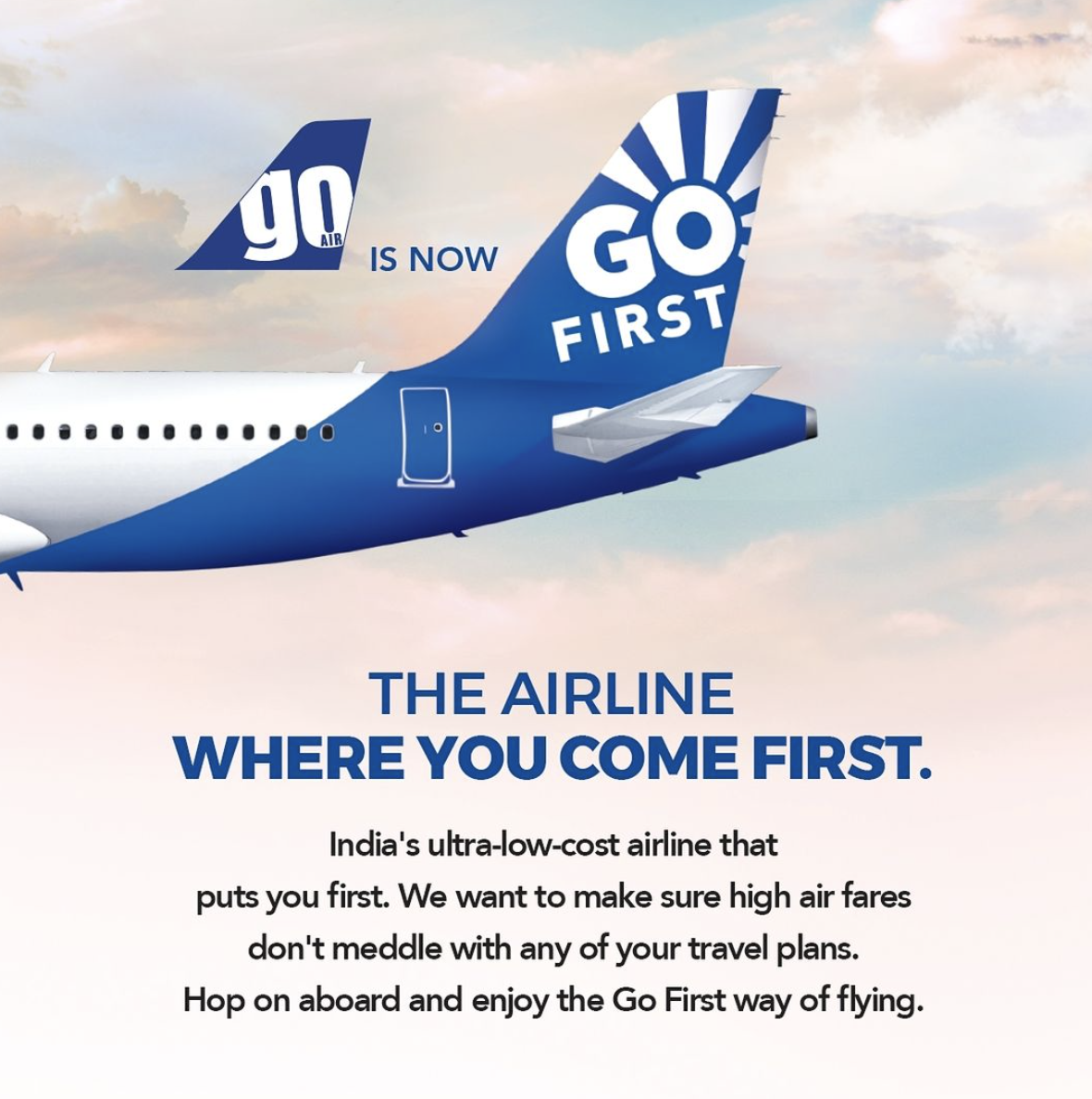 There is a slight change in brand colour to light blue; however, branding is super inconsistent at the moment. Their social media posts after the announcements still have GoAir branding. Moreover, even on their website, they seem to have certain inconsistencies. The whole phasing in of the new brand identity could have been much smoother. One website section still reads why 'GoAir'?. Hopefully, these are corrected soon to avoid any confusion. Unless there is a compliance issue that I am not aware of.

This rebranding has come before the company decides to go public next fiscal. Go First plans to raise about INR 2500 - 3000 crore through an IPO.  Perhaps this is an attempt to stay afloat, when the airline industry is experiencing slow growth and massive losses thanks to the pandemic and COVID-19 travel restrictions.

Moreover, Go First is also under the scanner recently. Allegations and legal notices from pilots regarding non-payment of dues have come up. If not paid timely, they are all set to go ahead with criminal proceedings. With this, it is only imperative Go First needs to look for an IPO route to raise funds that will pay off significant debt and airline fuel dues.

At a stagnated growth rate, the rebranding and IPO combined should help the airline survive in this brutal Indian market. Will they really 'Go First'? Only time will tell.

Do let me know your thoughts on the above and what GoAir's new name?
---
Like what you read? Help The Local Postcards bring out more quality content by supporting us in various ways below!
The Local Postcards Newsletter
Join the newsletter to receive the latest updates in your inbox.
---