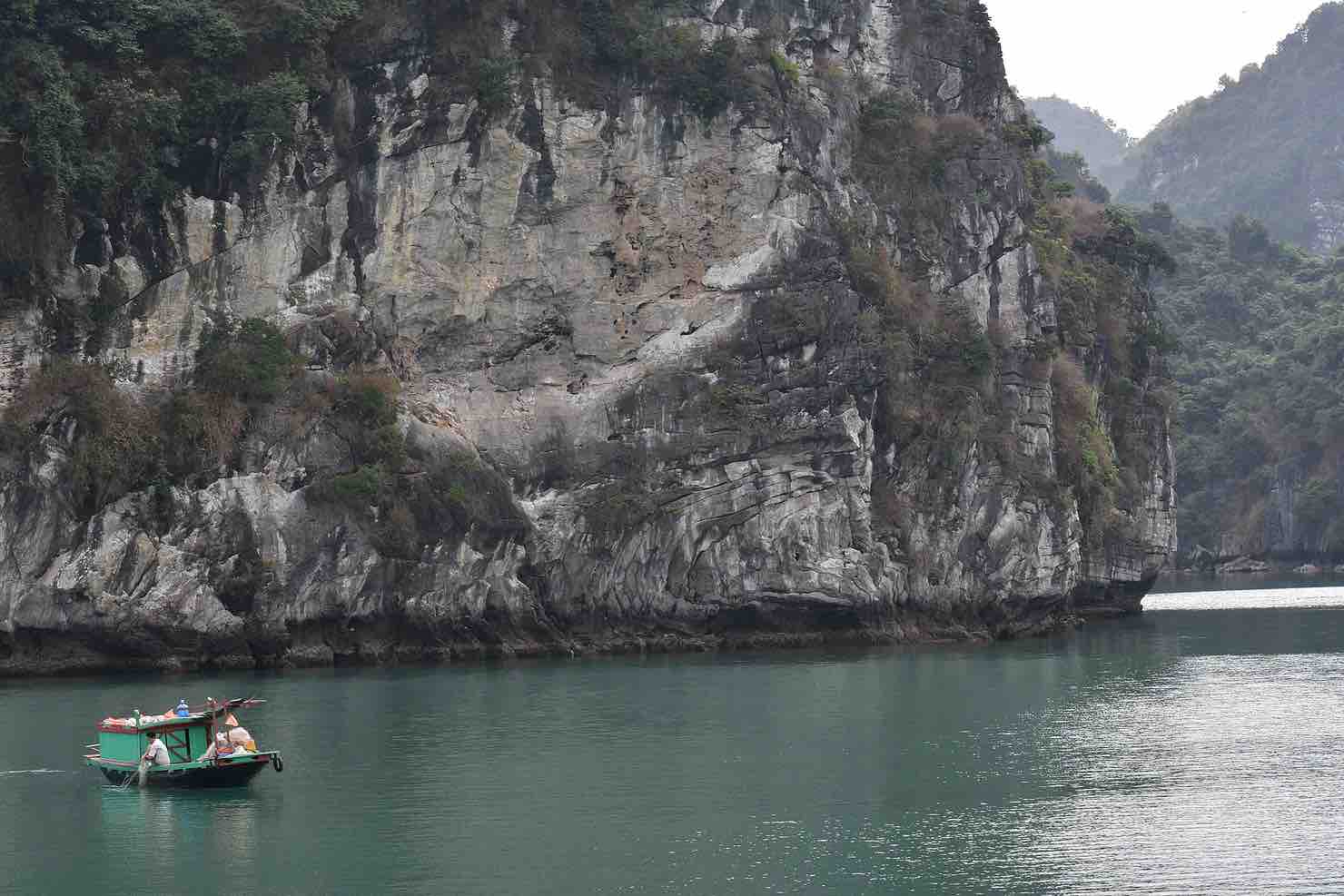 My Vietnam Itinerary: Part 2
Continuing my Vietnam itinerary. This blog covers the second half of my solo trip where North Vietnam Destinations are covered.
In my previous blog post (Part 1 of my Vietnam Itinerary), I have extensively covered my first week in Vietnam. You can check out the first part of the itinerary here.
In this part of the blog, I will be covering the rest of the week in detail as well as overall finances for my two-week-long solo vacation. Towards the end, I have also added a few more pointers like Visa requirements and procedures for Indians and other details one can benefit from while going around in Vietnam.
Day 8: Hoi An-Hue
After my three magical days in Hoi An, I took an early morning bus journey to Hue. Hue is a small city located a few kilometres to the north of Hoi An. It takes close to about 3 hours to Hue in a bus and one can also do this trip on a bike if you want to be a little more adventurous.
There's really not a lot to do in Hue and I would recommend staying here just for a night. I went around the Citadel and the Night Market area and explored a few eateries. Other than the plethora of coffee shops and street food options to explore, there is nothing else to do.
I stayed at the Why Not Hostel and it was very conveniently located. Outside the hostel, on the entire street, you will find plenty of bars to hop on and is literally buzzing throughout the night. It is a pretty central area with lots of backpackers hostels in the vicinity and also very close to the citadel.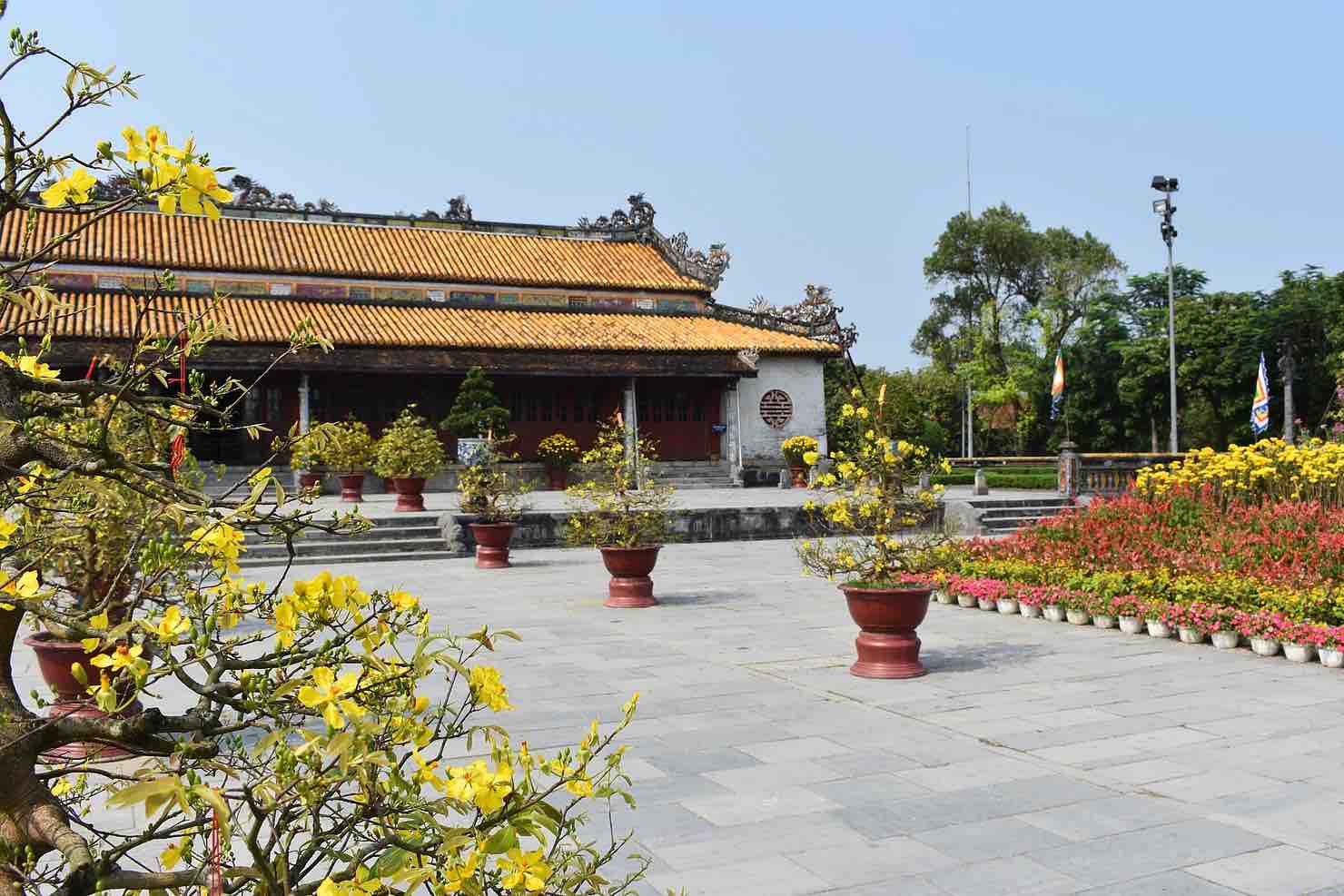 Day 9: Hue
I happened to have made a friend in Hue and over coffee, he asked me to pay a visit to a few places, which I mentally made a note of. I made my way for Thien Mu Pagoda and Tomb of Khai Dinh. I loved the tomb of Khai Dinh and it is a must-visit if you are in Hue. The tomb is so flamboyant and artistic and it is an excellent example o Vietnamese architecture and design.
In the evening I boarded a 14-hour bus journey to Hanoi. I would suggest not taking a 14-hour bus journey because the buses in Vietnam are very uncomfortable and are not at all spacious. You can instead book a flight from Da Nang to Hanoi, or you can also check for flights from Hue to Hanoi as Hue has a small functional airport as well.
Unfortunately, I was not able to book the flight as all seats sold out due to the Lunar New Year and frankly, I did not think that this would happen to me at the very last moment. Hence I had to resort to taking a tedious bus journey.
Tips:
1. You can also stay in Da Nang and do a short day trip to Hue and get back to Hanoi the same day evening.
2. If you are travelling solo then cover the city using Grab bikes. It is easily available for even far off places like Khai Dinh tomb at very nominal rates.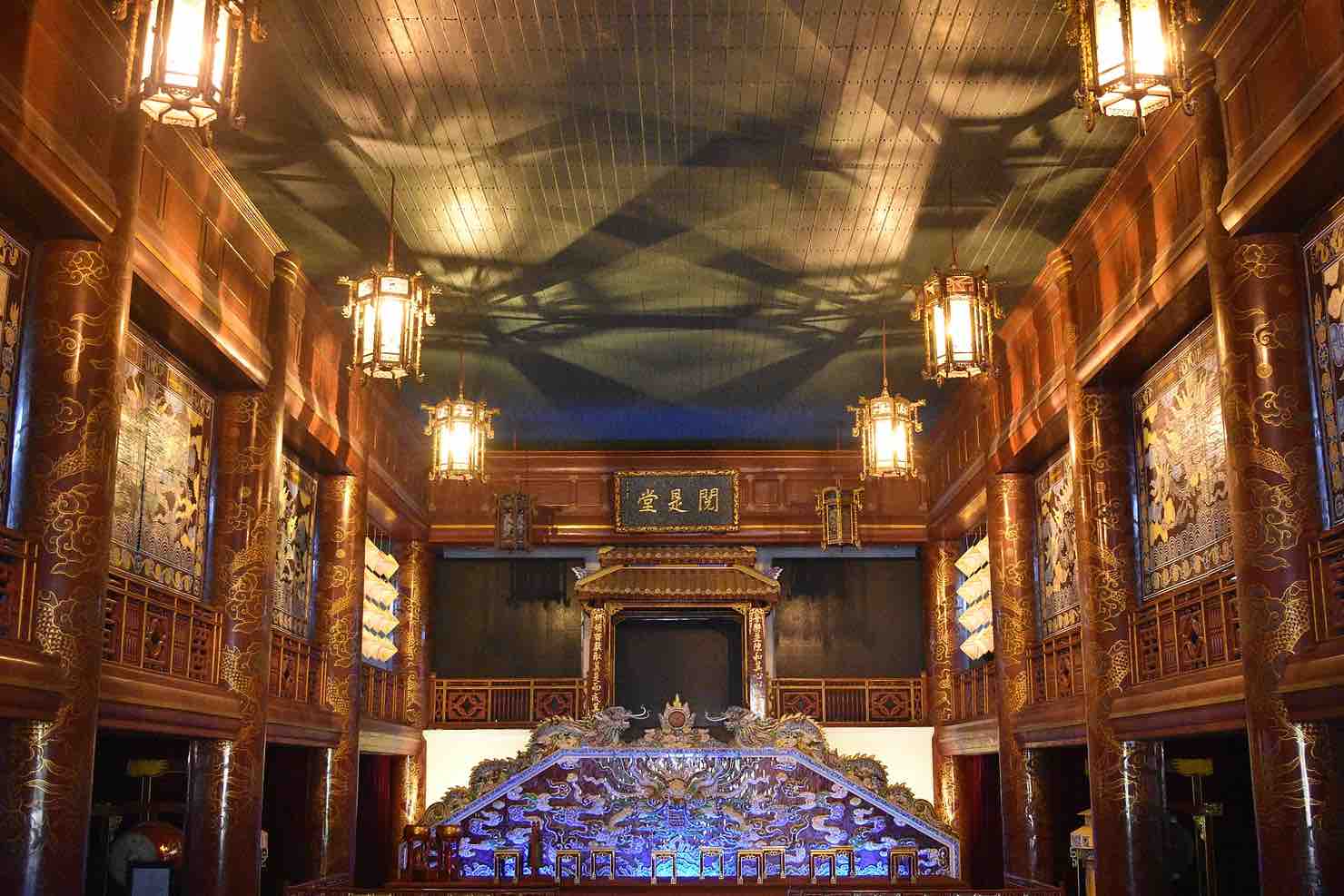 Day 10: Hanoi
Finally, I made my way to the capital city after nine days of travelling through Vietnam. I have so much to say about this city. It offers so many things to do for people of all ages.
I checked into Little Charm Hanoi Hostel which by far has been my favourite hostel in Vietnam. Located in the bustling part of the Old Quarter area this hostel was so neat and clean and so aesthetic. I loved staying here and would highly recommend people to book this place.
So I instantly made a friend with a Korean traveller and went for a coffee to Cong Caphe, which was located near the St. Josephs Cathedral. I once again had my favourite Coconut Coffee here and relished the views from the upper floors of this cafe. This place was so beautifully done that I did not wish to move and just stay here for a while.
Later during the day, I got onto the hop on hop off bus which showed me around the city. It was a very nice way to explore all the major attractions of the city right from the Ho Chi Minh Mausoleum, The temple of literature, Hanoi Opera House and a lot more. It starts at the Hoan Kiem Lake and runs approximately every 30 minutes. The starting point is walking distance from the St. Josephs Cathedral and you can take between 2-6 hours to complete the route, depending on what places you are willing to explore.
Later during lunch, I made my way to Bun Cha Dac Kim situated in the Old Quarter area. If you are in Hanoi, you need to try their Bun Cha. Right from Obama to me are a huge fan of this dish. And the portion size is so huge. Right from spring rolls to the rice noodles and the succulent kebab kind of thing which they serve with the pho blew my mind away.
During the evening I walked around the old quarter area on foot and checked out the market place. You usually would get souvenirs here, but I would suggest not buying things from here unless you want to. You can read later in this blog which place you need to go for souvenir shopping.
Later at night, I had ice cream at Trang Tien ice cream which honestly I did not like it, and found it to be quite overrated.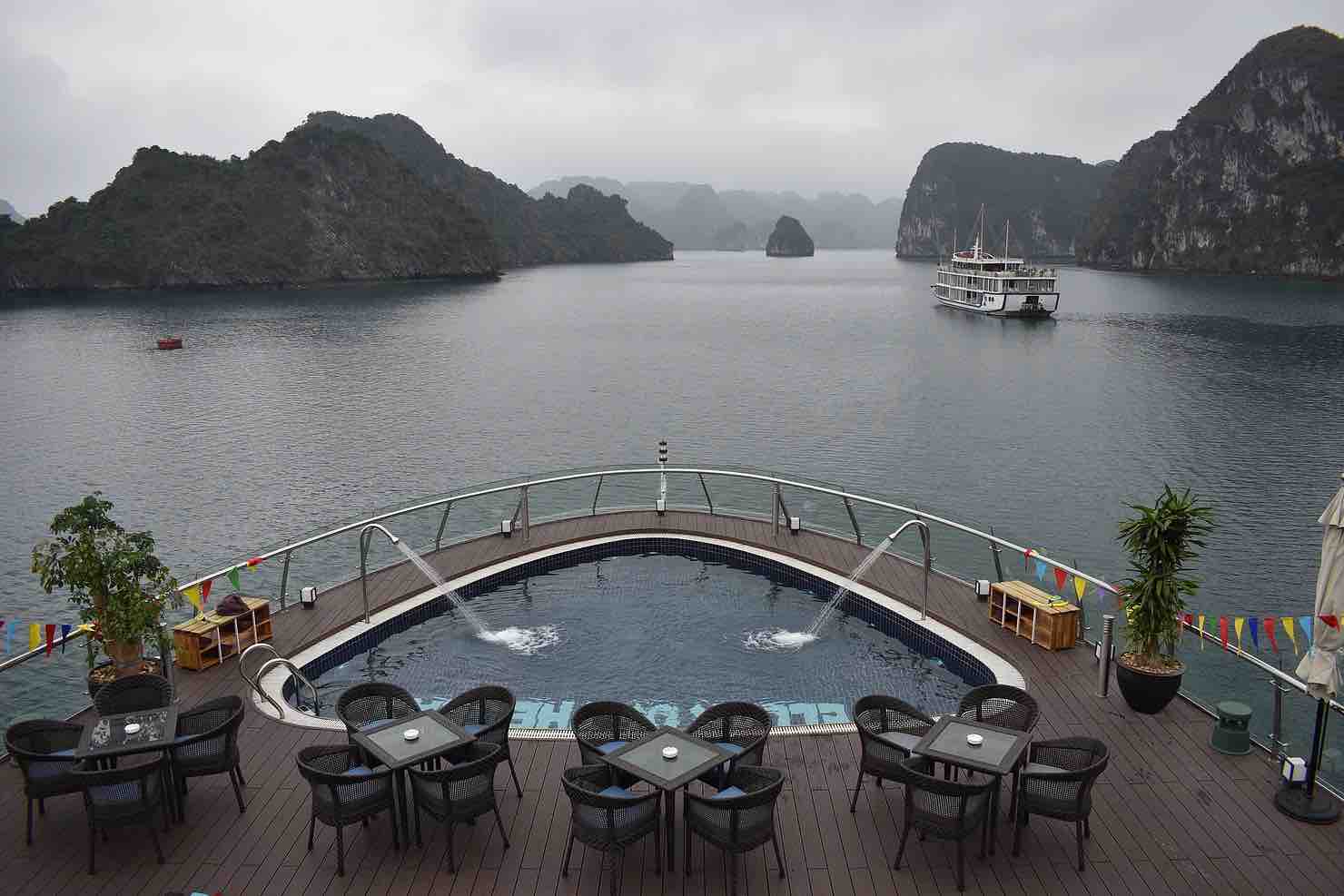 Day 11: Ha Long Bay
Ha Long Bay was the highlight of my trip. A quick two-hour ride from Hanoi to the cruise was spectacular. I had booked myself on a two day one night cruise on Stellar of the Seas and it was indeed stellar.
The cruise was fantastic. I have no complaints here and highly recommend them. The rooms were luxurious and the food lip-smacking. I also kayaked and swam in the tranquil waters of Halong Bay when they had anchored for some time. One can just relax on the sundeck and immerse themselves in unmatched luxury on the cruise.
Moreover, the beauty of this place is mesmerising. If you have time I would suggest spending two nights on the cruise instead of one.
Day 12: Halong Bay - Hanoi
I got back to Hanoi by Noon after checking out from my beautiful cruise ship.
I checked into another hostel by the name of Old Quarter View Hanoi Hostel located in the Old Quarter area of the town. It was not the best of the choice, but I wanted to explore a different hostel this time. The next couple of days I went around in Hanoi immersing myself in local cultures cuisines and architecture.
If you are in Hanoi you need to try their signature egg coffee. It is very creamy and also very sweet. I tried it at the Loading T cafe on the Hang Trong street and this place although small but so comfortable and aesthetic. You also need to try a local Vietnamese dessert called Che. It is a coconut blend with jellies and fruits and I really loved it.
Later at night, I made my way to the Binh Minh Jazz Club. This place is a must-visit. They have some great cocktails and a live jazz performance every evening from 9-11 pm. These two hours were absolutely spectacular. I tried a couple of their cocktails and sat through the entire set. The musicians were so talented that it made think to come back the next night again. If you are in Hanoi you should not miss it at all.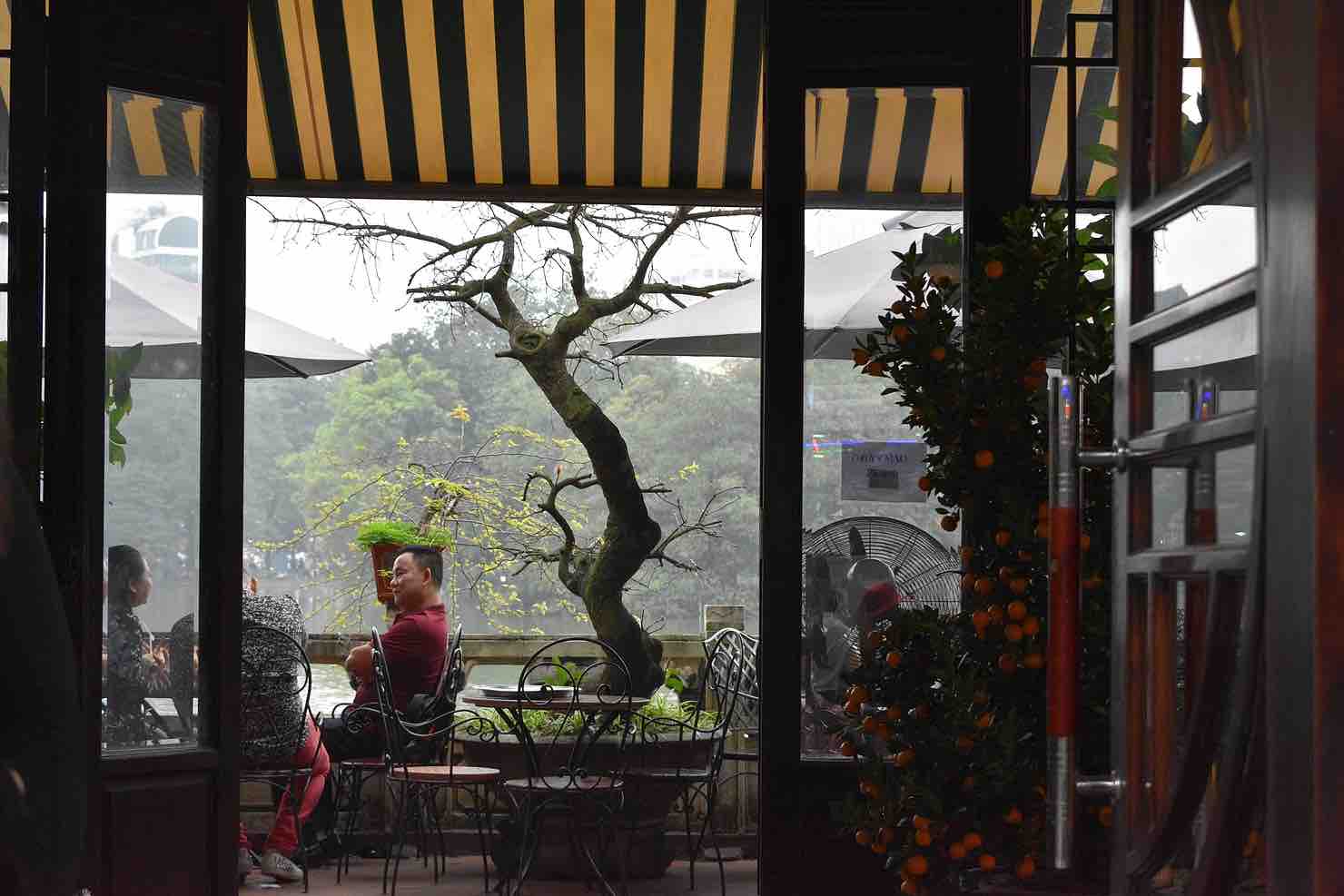 Day 13: Hanoi
In the morning I went and explored this cafe called Hanoi Coffee Station. It was so nice, you should try sitting outside in the small balcony, it gives a great view of the bustling street down below. As usual, I took a coconut coffee and later went hunting for a nice lunch location. I stumbled upon this place called Banh Mi 25. This is the best place to have a Banh Mi sandwich. It was so good that I had two of them and stuffed myself up. I highly recommend this place and it is a must-visit.
Later I visited my favourite cafe in the whole of Vietnam. Tranquil books and coffee is a gem of a place. You want some alone time, come here. You need to read a book by yourself, come here. You need some time off to work, come here. This place is so so beautiful and calm with warm interiors and great coffee, it definitely tops my list.
In the evening, I visited the Aeon Mall in Long Bien area. I mostly shopped for clothes here (My favourite shop there is 'Routine', for men's clothes, it has some great collection) and post which I treated myself to a Matcha Ice cream, which was really yummy. Once back at the hostel, I was writing postcards for the rest of the evening and retired for the night.
Day 14: Hanoi
Today I decided to relax and not make the day hectic for me as it was the last day of the entire trip. I went around the city walking and also visited the famous train street. Most of the morning I was clicking photographs of the street and writing and sending across my last bunch of postcards. I also made a quick stop to the National post office at Hanoi to buy a couple of stamps and post the postcards.
I finally had my last pho for lunch in Hanoi at Pho 10. It was packed and had a long queue but it was quite appetising. I went on to explore the city again on foot and clicking some more photographs.
Souvenir Shopping: I spent quite some time this evening buying things for friends and family. I would suggest going to Collective Memory. They have some amazingly sourced products from the country and most of them are organic products. Right from unique spices like a lemon pepper to coconut-based cosmetics as well as silk scarves and organic Vietnamese coffee. They also had some great stationery and postcards as well as notebooks and art posters which caught my eye. This was my favourite shop to splurge on. You can also check out this place called The Craft House on the same road. I shopped for a few souvenirs from here as well.
I finally packed my bags and headed out in the old quarter area for dinner. I stumbled upon this burger place called Chop'sand it was so nice. You should try the Durty Bird burger as it was my favourite, along with some brewed beer from Hanoi Cider Co which was so refreshing. I tried their Hopped Cider and totally loved it.
With some great live music and good food, my Vietnam sojourn came to an end. I flew back to India early next morning.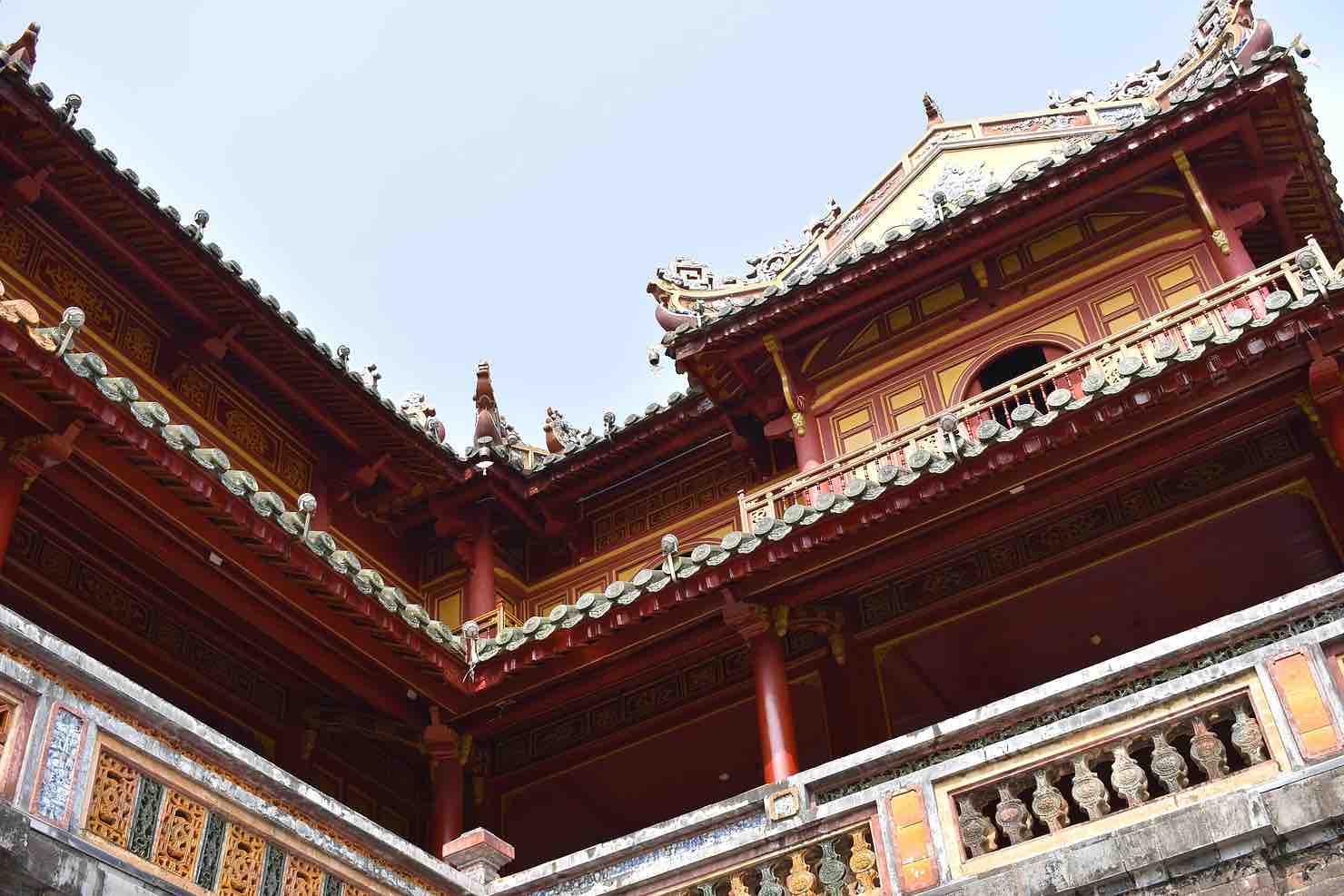 Tips:
1. Please visit Sapa. I was unable to go because of time constraints. But Sapa is one of the most beautiful areas in the north. Ideally, it would be great if you are able to find time to do a trek among the rice fields.
2. Following are my restaurant & bar recommendations where I could not make it but worth a visit: Definitely try out Pizza 4P's for pizzas. if you are into cocktails please try the Ne Cocktail Bar (try their Negroni) & Mad Botanist (They are known for their Gin based cocktails). They usually get full by 9 pm so make sure you have a reservation.
3. If you are a vegetarian, do to worry. Vietnam has tons of places which offers great vegetarian food. I would also suggest you download this paid app called Happy Cow, which lists some great vegetarian places around the globe.
4. Get a massage done in Hanoi. I really wanted to get one but did not have enough time. Hanoi is famous for great massages and one should definitely experience it while in the city.
5. Also try and visit Ninh Binh & Phong Na if you have more days to yourself. Ninh Binh is more about lakes and mountains and Phong Na is more about caves and trekking. I was originally planning to stay in Phong Na but changed my plans last minute.
6. I did the trip from South Vietnam to North Vietnam, solely because the flights were cheaper, but one can also start at North and end in the South. Both circuits work well.
Finances
I completed my trip in exactly INR 1 Lakh rupees for a period of two weeks. This includes my return airfare on Singapore Airlines, Visa processing fees, one internal flight, internal transport + Grab bikes/taxis, one night stay at the Ha Long Bay cruise, all meals and booze as well as sightseeing tickets and hostel/hotel charges as well as all the shopping for clothes, souvenirs and basic utilities required during my 2-week stay. This also includes the cost of a sim card (I went for Mobifone, which was pretty good, but as I spoke to more people, they preferred Viettel).
Visa Process for Indians
The Visa process is the easiest for Indians. They have recently launched an e-visa platform and one can get a Visa in 3 days. It costs only $25 (INR 1750) and is an easy option to go for rather than the pre-approved visa application letter option which is very cumbersome.
If you start searching for Vietnam visa portals you will get tons of portals which are not trustworthy, most of them are agent portals which will charge a lot more than you are supposed to pay. You can visit the official Government website to apply for a visa here.
Vietnam is a great country, where a lot of Indians still are not open to visiting. It is one of the most beautiful countries in South East Asia and is really safe for everyone visiting here. I can never stop talking about this country and am completely in awe of the beauty of this country.
With people so warm and caring Vietnam has my heart and I will be returning here for sure.
The Local Postcards Newsletter
Join the newsletter to receive the latest updates in your inbox.
---