Review: Le Méridien Mahabaleshwar Resort & Spa
A quick drive from Pune, located with a perfect valley view - why does this Marriott property fail to charm? Check out this short review on the property and decide for yourself if you should be heading here this strawberry season!
I recently, in February 2021, visited Le Meridien Mahabaleshwar. Although a part of Marriott Bonvoy, this one is managed by Brahma Corp. Spread over 27 acres of forest area, this hotel is sure to transport you to a place of fresh forest land and a land of strawberries!
The Journey
The journey was not too bad. A short 3 hour drive from Pune, and we were at the property. We did stop for some fresh 'ganne ka rass' (sugarcane juice) on the highway and a quick pitstop at Mapro's for their strawberry & cream. Since we visited right in the middle of the strawberry season, it would have been disrespectful to the strawberries not to taste them as soon as we land up. Bloated and full to the brin - we make our way to Le Meridien Resort & Spa, which was a 20-minute drive from the Mapro Gardens.
Rooms
The rooms were decent. We did not secure an upgrade - although I had requested them before check-in. Apparently, all the rooms were sold out due to a weekday wedding and was quite jam-packed. I thought it would be quite the opposite. I had booked a weekday getaway to avoid all the Mumbai-Pune Weekend Crowd. However, I was not successful in the same - and blamed myself for overplanning the dates.
Going back to the rooms - we booked the base category rooms, and they were relatively small. All the basic amenities were in place. However, suppose I have to compare the base category rooms with Hilton Shillim and W Goa. In that case, I have to say I was disappointed with Le Meridian Rooms' size. I will advise booking a higher category room rather than a base category if you look for more space in your room.
We had two rooms next to each other, and the balcony provided gave us a beautiful sunset view. We were delighted with the valley view since it felt super serene and calm.
One thing which they could improve on is their sustainability efforts. They share a piece of paper every day with all the guests, which outlines all the day's activities. Going digital is the next best thing - which a lot of hotel properties are adopting.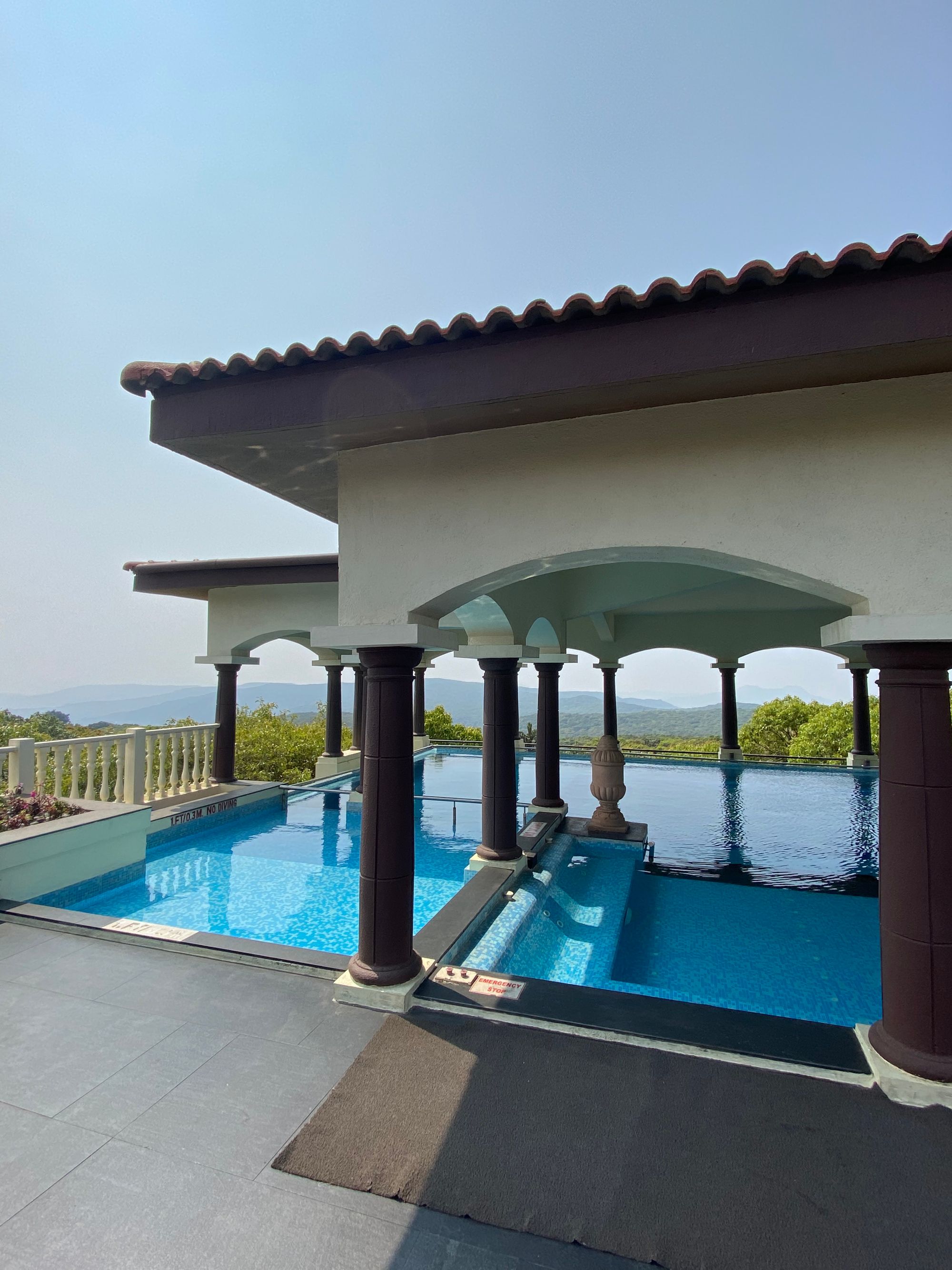 COVID Safety
One needs to get a medical certificate from a doctor for all the travelling members, specifying that they are fit and do not have any COVID related symptoms. This can be an added step - however, it will ensure all other travelling members' safety and keep the property COVID free.
The COVID safety is pretty basic again - sanitizers at all the places. However, I did not see mask provisions in the room or on the property. Moreover, they could not manage the guests when it came to dining - the breakfast experience was not following any social distancing norms.
There was no COVID briefing or guidelines around the property as well. I think efforts on this front need to ramp up at a faster pace.
The pools were shut like most of India's properties - however, their spa was operational when we were visiting. I haven't been to a hotel since COVID began - but I am assuming they only take you in after a prior COVID test / Rapid Antigen test.
In & Around
The property organizes a few events to keep the guests busy. These include movie screenings at their auditorium, activity sessions & workshops for children. They also have a tie-up with someone who organizes strawberry plucking and set up strawberry stalls within the properties for purchase.
Since I have frequented Mahabaleshwar quite often, this time, I did not venture out of the property other than a quick stroll in the Mahabaleshwar markets. With the market getting crowded by each minute as the sun set, we made a quick exit and were found back in our cosy rooms, away from the maddening crowd.
However, I believe there are quite a few things to do in Mahabaleshwar - right from local treks to exploring lakes and some beautiful sunset points in the hills.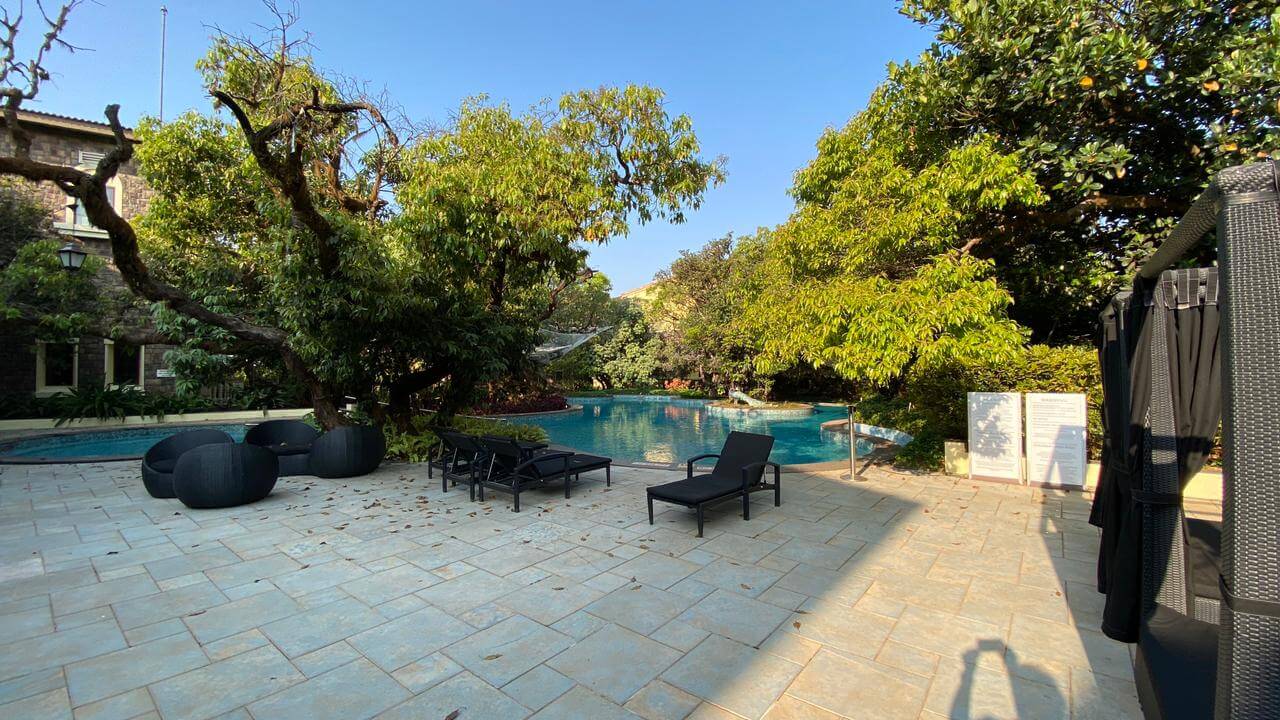 Food
The food was excellent. In fact, I loved the hotel's restaurant, 'Chingari'. They served outstanding Indian cuisine, which was truly unique. It is one of the few 5-star restaurant experiences where I have been pleased with the food. The taste was quite impressive.
The breakfast was at Latest Recipe and pretty standard like any other buffet breakfast. However, the outdoor seating during breakfast was a key highlight for me. A beautiful yellow - french style promenade, birds chirping and a whiff of light breeze elevated our breakfast experience.
They also organize a complimentary evening chai session which is quite a refreshing break during the day. Accompanied by a few snacks, they could charm the Indian audience by giving them what they love the most - a cup of 'chai'!
Staff
The staff was sweet and accomodating. Prior to my arrival they did keptt on calling me & checking on my arrival time and any preferences. Although because of the vastness of the property, my requests were fulfilled a tad bit slower. The only hiccup was when I was working, and the Wifi connection stopped working. Moreover, they did not have a great business centre, and I was very disappointed. I requested a portable wifi device - which arrived quite late without any battery. I think experiences like these add to the overall experience of the hotel. The ability of the staff to go that extra mile is what makes me happier with the property.
How much did it cost me
The rooms cost me around 1,35,000 Marriott Bonvoy Points. That is 2 rooms for 2 nights each, including breakfast for 4 people. I did a complete redemption and used my points to have this staycation. So practically, it did not cost me anything for the stay.
The total room price for the above stay was around INR 60,000. That is a good saving for a quick getaway. However, I am not very happy with the point conversion ratio.
The additional pricing was only for the Food & Beverages taken up during our stay - which did not exceed INR 6000. Also, as a Gold Member with Marriott Bonvoy, I was eligible for a 15% overall discount on all the F&B purchases.
TLP Rating ★★★☆☆
My parents loved it. However, for me, it was a miss. With every luxury property, I have started staying in, each one has increased my expectations. What can not go wrong is the primary expectation in terms of service and the property. It is really an ample space - lush green forests and  the lovely ever-smiling staff members add to the overall experience.
However, it does not make the cut for a super luxury getaway. What I did not feel was the aspect of hyper-personalisation. Does this lower the bar for me on how Marriott Properties are managed in India? Maybe - maybe not. My overall rating will be 3 out of 5 stars. If your experience was any different, feel free to let me know.
Currently, I am thinking of a getaway somewhere in Kerela during April. Do you have something in mind which I can explore, a property I can relax in? Feel free to comment below.
The Local Postcards Newsletter
Join the newsletter to receive the latest updates in your inbox.
---