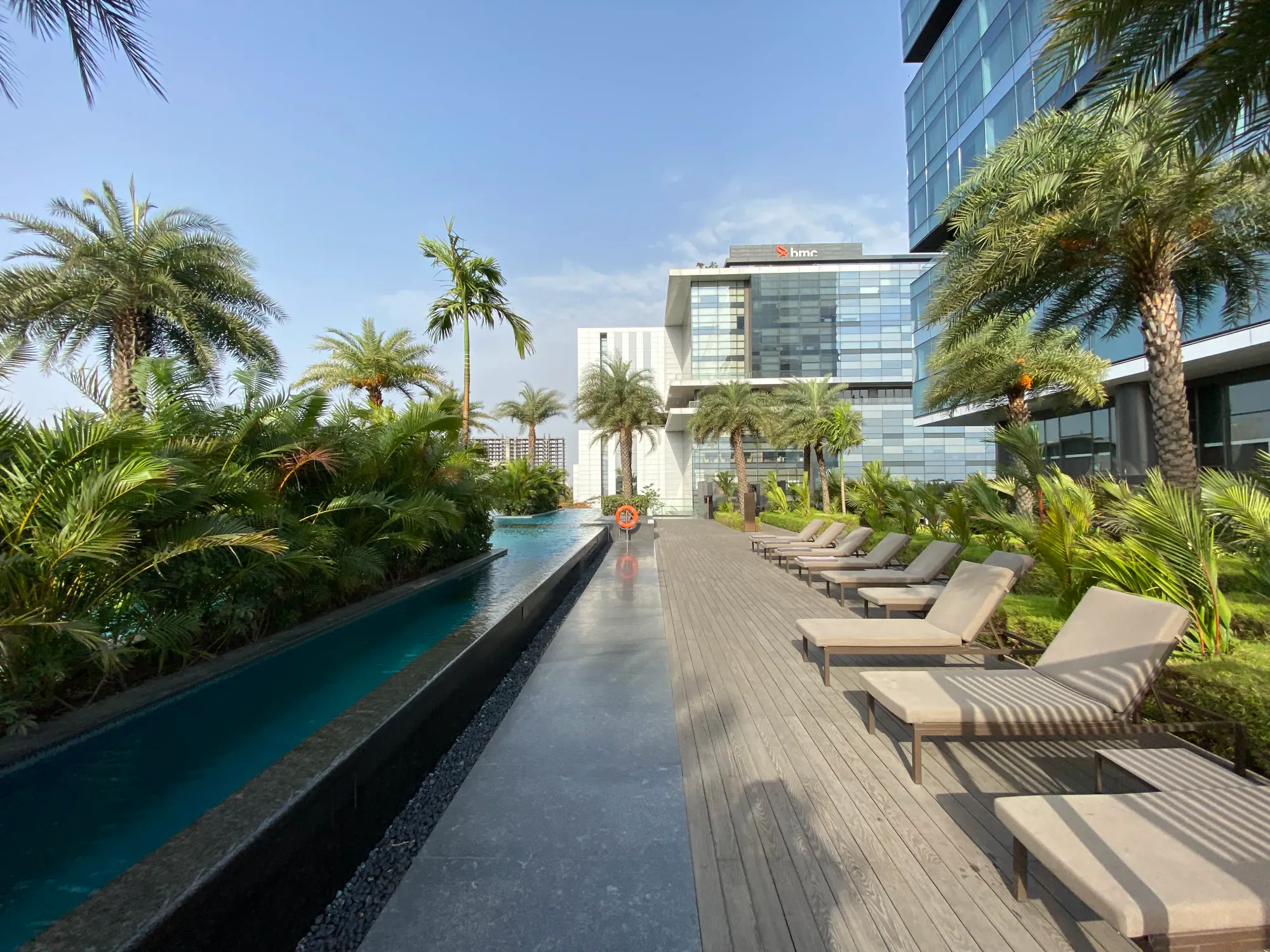 Hotel Review: Ritz Carlton, Pune
The new glitzy venue is here in town, which truly elevates the hospitality space in Pune by a wide margin. The iconic lion takes center stage at Yerawada, next to some top financial firms.
I booked two nights with The Ritz Carlton, Pune, and it was a reasonably quick check-in. Welcomed with a glass of bubbly, we were delighted to learn that we were upgraded to their top suite for our time here. As a Marriott Gold Member, I love these occasional upgrades (Especially when you book the base room and are upgraded to the highest suite). The main lobby is grand, and you feel the luxury vibe take center stage. The massive chandeliers, a tea house next to it, and a waiting area for guests feel extremely private yet comfortable. The lobby has a separate concierge desk, and the bell boys, with their classic uniform, add color to the space. I was in awe of this hotel since the minute I entered. The Ritz is becoming a place for chic events and, of course, Indian weddings. If you plan to travel to Pune, Ritz Carlton Pune is a must-stay.

Our Suite
I rarely use this word, but If I have to describe our suite in one word, it would be 'Majestic.' A fantastic living room, a massive bedroom, and one of the largest washrooms I have ever seen with a walk-in wardrobe. The bathroom amenities were top-class and were sourced from "Forest Essentials' a Luxury Ayurveda Indian brand, which I love. They also included an intimacy kit in the room which is a first, and I have not seen this yet in any of the hotels I have visited.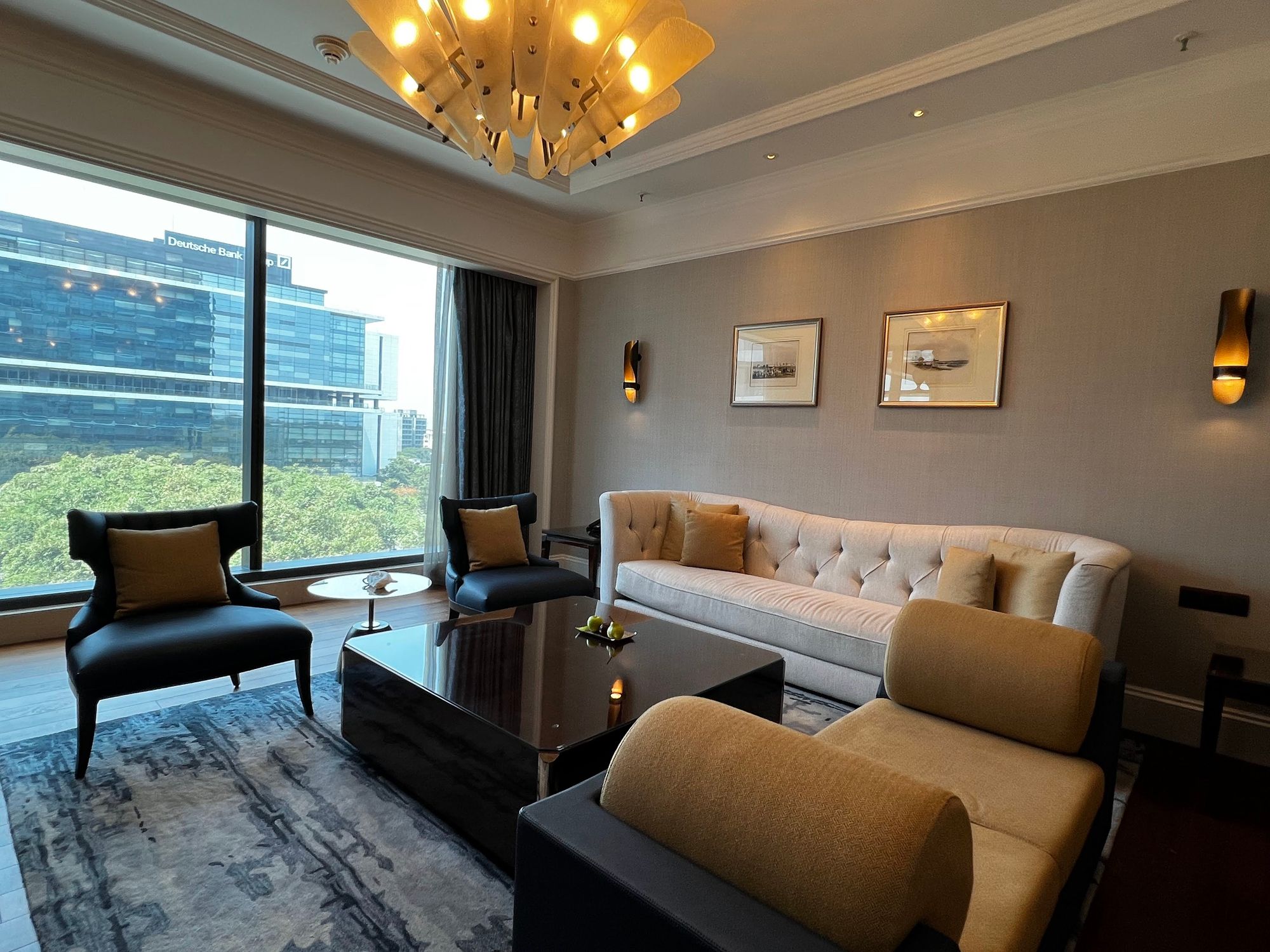 The suite has another washroom in the living room in case you are expecting guests or need to entertain people. The room overlooks the office space and other similar-looking buildings in the complex - not much of a view - however, they also have better views overlooking the Pune Golf Course area.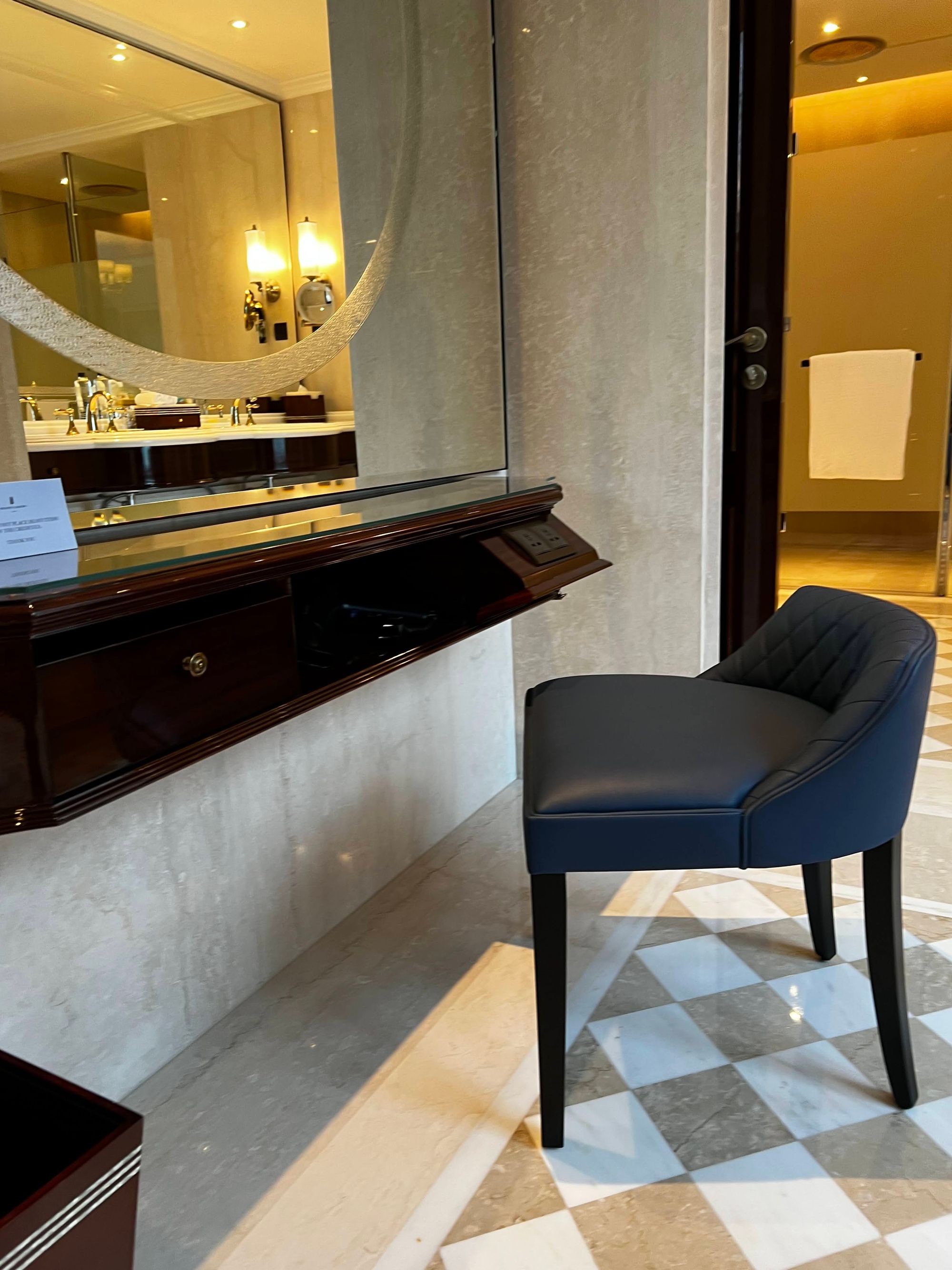 Hotel Amenities
The hotel, although built within a single building, like most city hotels, has a range of amenities. They have a range of restaurants which I have written about in detail in the next section. Besides that, they have an infinity pool along with a poolside bar. The swimming pool is super calming and is great for an evening dip while you soak yourself in the city lights. The hotel also has an excellent full-fledged banquet service(I visited Ritz for a wedding!). They also have a fitness center open 24x7 and a spa service, which helps if you have had a long flight or a bumpy journey. Due to the limited time, I did not use either of them during my time here.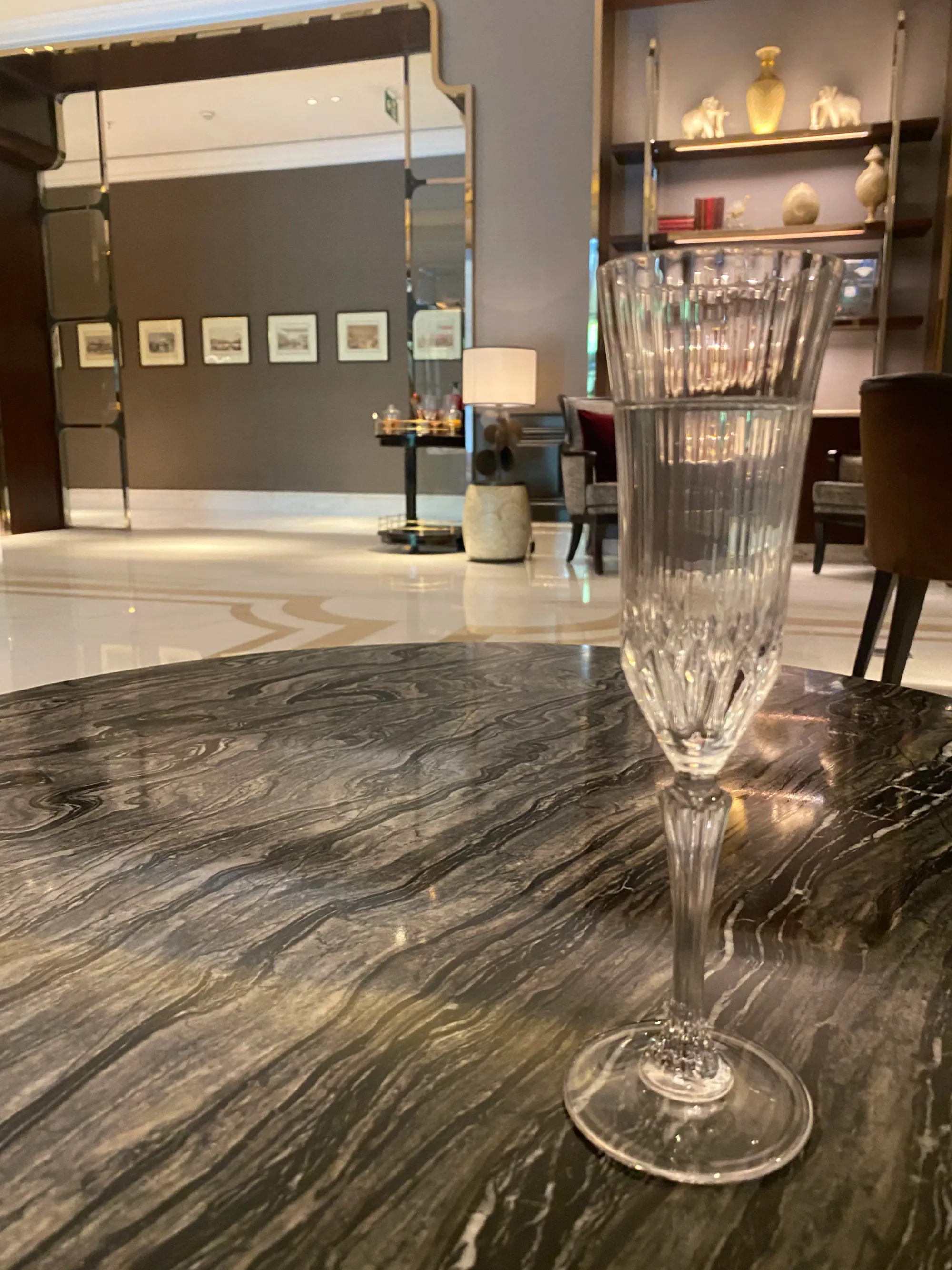 Food
The food is delicious. I previously ordered food from them and got it delivered multiple times (Once their chauffeur came in to drop food in the Ritz Car) and dined in at all of their restaurants, minus their tea lounge.
3 Kitchens: This place is where the buffets are, from the breakfast buffet to dinner. I enjoyed both of them. Incredible selection, widespread and tasty food. The quality is fresh; these days, I look for more than the taste - however, top scores in the food space.
Aasmana: This is their rooftop outdoor lounge. I suggest coming in here for cocktails and some light snacks. I loved their Negroni, the presentation was classic, and the snacks were delectable. Then we were moved indoors for our dinner, where my favorites were the Jamun sorbet palette cleanser and the chicken ghee roast.
Ukiyo: This Japanese dinner place again is excellent for cocktails. I loved what we drank here, but I cannot say the same about the food, solely because I did not order a lot.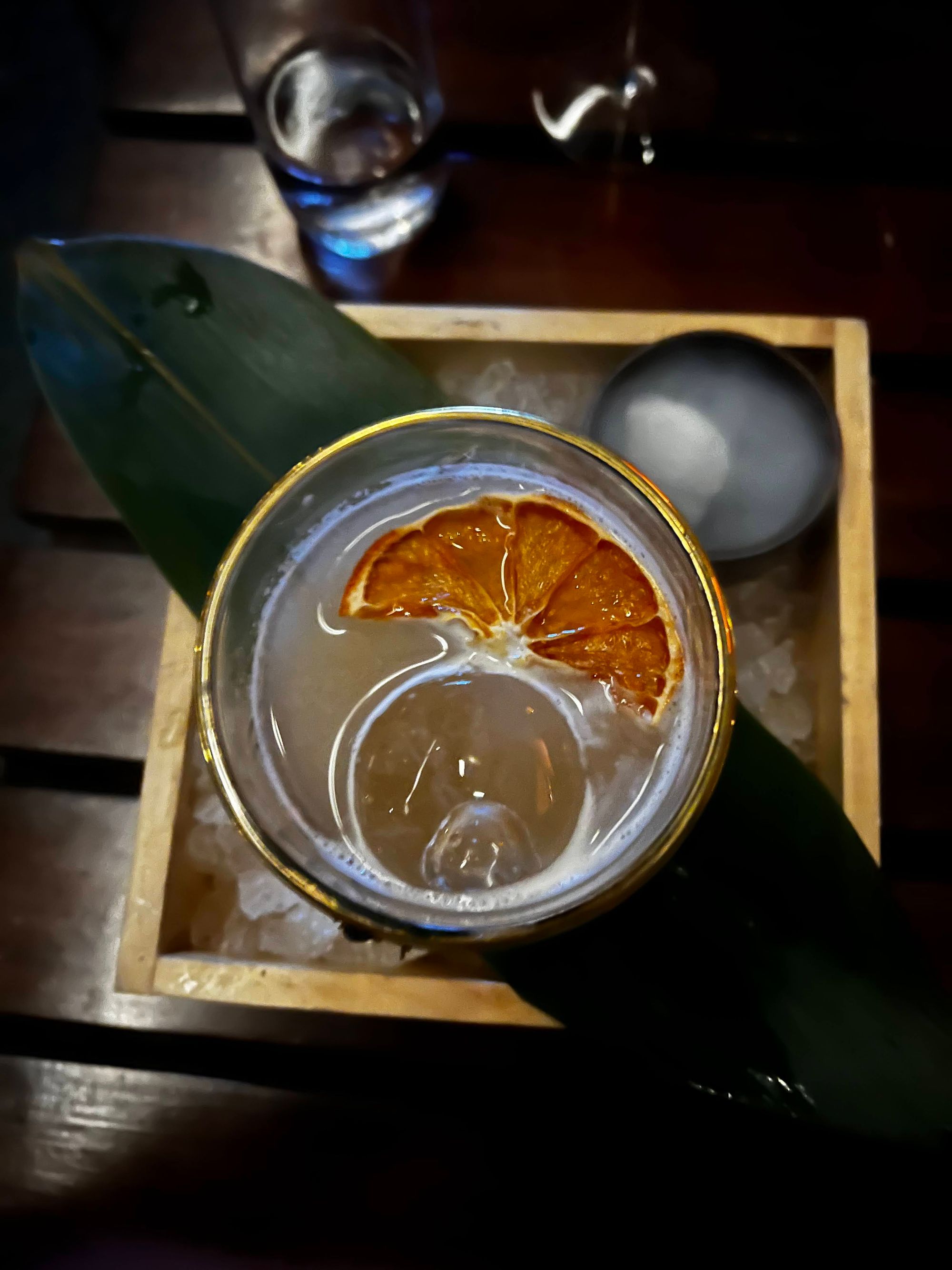 Staff
The staff is very welcoming and sweet. I also had a few email exchanges before coming in, and they were very prompt with some accommodations we wanted. Moreover, their staff delivered a few things we ordered from outside to our suite. We were delighted and loved the attention to detail. I am also in absolute awe of all the servers in their restaurants who engage in conversations, and the experience feels more personal. In my opinion, this is a flagship USP of all Ritz Carlton's globally, and I hope they maintain this level of quality consistently.
How much did I pay?
I paid about $500 for two nights, including breakfast and dinner at Ukiyo. Moreover, we got upgraded to the premier large one-bedroom executive suite, their top suite, and we only paid for their basic one king-bed bedroom. It was definitely on the higher side for a city like Pune; however, with the brand Ritz, we were expecting to shell out some cash. I also received 6000 points, including the base points, the elite bonus points, and the extra points for Gold members.
TLP Rating ★★★★★
If you are visiting or looking for a staycation in Pune, then the Ritz Carlton Pune is the ultimate choice. Priced slightly on the higher side, however, you can expect top hospitality. The Local Postcards rates The Ritz Carlton Pune a solid 5, and this one is hard to beat, especially in Pune. I recommend emailing them in advance and letting them know of your particular needs since they are very accommodating and eager to ensure you have a comfortable stay. I will return to this space and hope they maintain this level of consistency.
---
Have you stayed at Ritz Carlton, Pune, before? How has your experience been? Do let me know in the comment section below.
---
Like what you read? The Local Postcards is an independent publishing platform. Hence you, as our reader, can support the website in various ways to keep the content inflow. Find out how by using the below link.
---
Love hotels? Check out my other reviews on hotels across India below.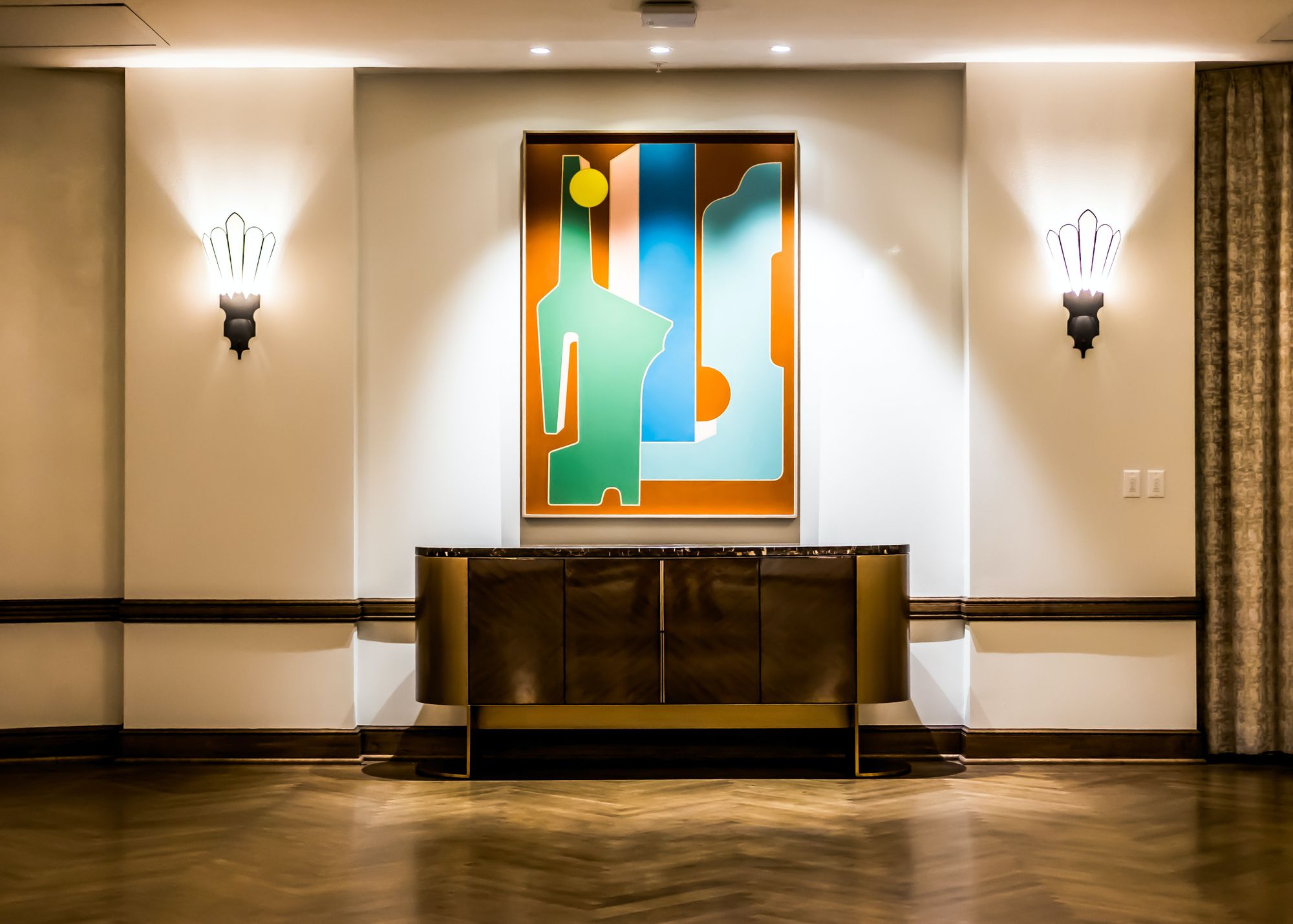 The Local Postcards Newsletter
Join the newsletter to receive the latest updates in your inbox.
---